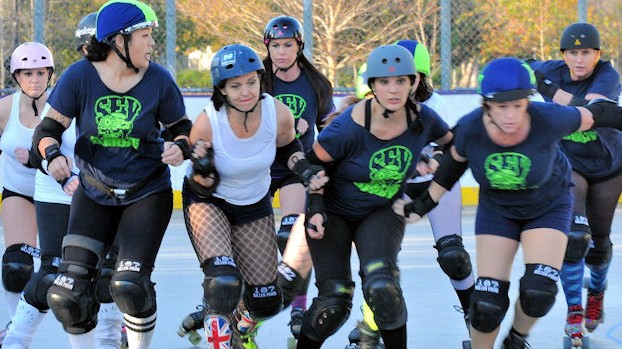 If you have relatives elsewhere, or you've lived elsewhere, or you've ever gone elsewhere, you've likely had the "we have that" moment.
Whatever they have, from rock 'n roll bowling to the 24-hour grocery store? Somewhere, in Southern California, we have that. It's not a bragging thing; it just comes from living in a big, vibrant megalopolis that can support many different pursuits.
And not only do we have a roller derby outfit, we have multiple roller derby outfits. The Derby Dolls rightly get a lot of play but let's give a hearty cheer for the San Fernando Valley Roller Derby skaters. The Valley league formed in 2011 and they're ready to kick off the new season at Skateland Northridge on Sunday, April 8.
It's flat-track athleticism and, yep, it is a-ok for the family; you'll go in knowing that derby can be a pretty raucous affair, right? Good. And since the league offers a juniors division the afternoon might just introduce your daughter to the joys of derby. (Juniors is open to girls 7-17.)
April 8 is indeed Easter this year, the names of the teams -- we heard "Cadbury Cream" was involved with one -- may take on a pastel hue. Will there be plastic grass and eggs a-flyin', too? Probably not, but we'd love to see a tough derby star rocking some sort of frilly bonnet for the day.
Copyright FREEL - NBC Local Media