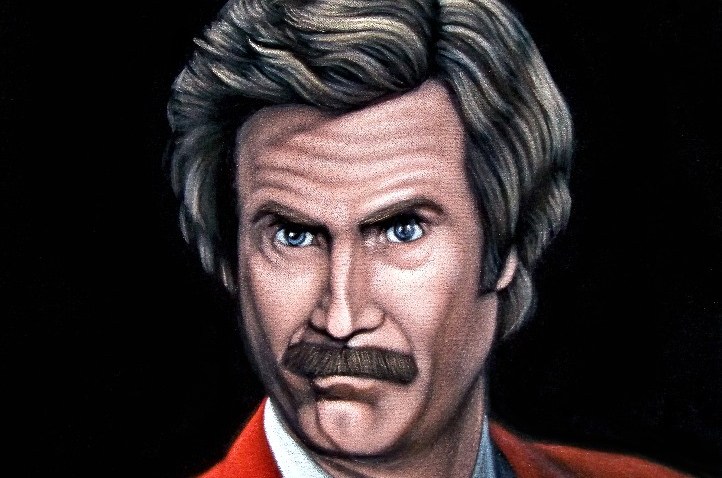 The sub-sub-sub-genre of American kitsch velvet painting has taken on many themes during its three- or four-decade reign, probably most notably The King. We know, there've been a few tigers and rainbows in the mix, too. And when all three appear on one canvas? Rather amazing.
But, of course, bright colors on a dark, soft-clothed background can be used to summon other titans of pop-culture-iana. Artist Bruce White has turned to the annals of filmdom for his latest exhibit, which is now on view at Gallery 1988 on Melrose.
"Velvet Paintings for Your Inner Nerd" -- how we do love a crystal-clear exhibit name -- celebrates a number of fictional characters as well as one real person, Billy White of the documentary "King of Kong." It is unlikely that you'll ever see Robocop, Ron Burgundy, Duckie of "Pretty in Pink," the Dread Pirate Roberts, Jereth, the Goblin King all assembled in a single gallery again, at least on the walls.
A number of canvases have been sold -- they run from $350 to $600 -- but Dwight Schrute and Ferris Bueller are still available. Aww, Ferris.
The exhibit will be on display through Wednesday, August. 15.
What's the next step for the velvet painting art form? Will it evolve again? Can any other style of painting top its sheer kitsch-o-sity, save, perhaps, paint-by-numbers? And what other fabrics and backgrounds have we not considered as paintable and frameable?
Follow NBCLA for the latest LA news, events and entertainment: iPhone/iPad App | Facebook; | Twitter; | Google+; | Instagram; | RSS; | Text Alerts | Email Alerts
Copyright FREEL - NBC Local Media