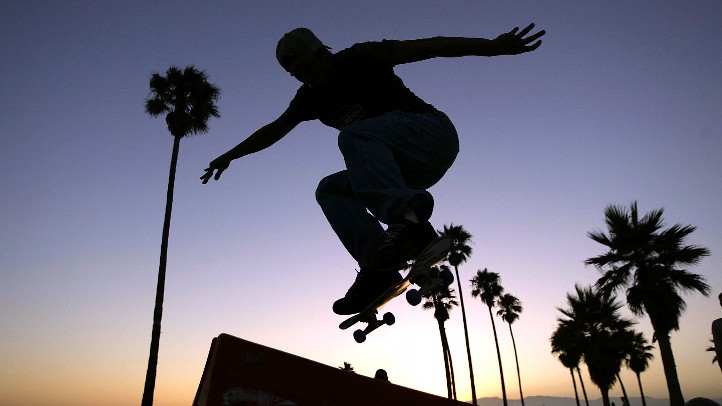 Venice, California derives its name from a series of quaint canals dug over a century ago (thanks, Abbot Kinney). But over the years our own beachside burg has had more than a few things in common with its Italian namesake. That is, beyond its picturesque though notably more petite waterways.
Like? A commitment to beauty, fun, and art. It sounds like a general statement but it can't be applied to every city; we won't name names here, but we've all had overnights in cities not committed to beauty and art.
Ahem. Moving on.
Now that Venice-Venice simpatico is once again on display during the Venice Beach Biennial. Yep, the name is a loving riff on the Venice Bienniale -- or La Biennale di Venezia, if you prefer -- which just happens to be one of the greatest and most esteemed art happenings in the world.
The Venice Beach version? Oh, let's call it a little funkier, a little looser-goosier, and 100% VB. Over 50 artists are taking to Ocean Front Walk where they will be "exhibiting new bodies of work" as well as "presenting live performances." The Hammer Museum is one of the organizers of the event, and a page on the site says artists will "leave their comfort zones" of galleries and museums.
Right on.
Three artworks catching our eye: Stickers around the boardwalk that pose existential questions. A "performance collaboration" with Muscle Beach bodybuilders. And a "two-headed bicycle" that will share one front wheel.
Say what? Pre-love.
This'll all go down from Friday, July 13 through Sunday, July 15. Are you wondering if the regular artists and roller skaters and painters and creative types who are regulars on the boardwalk will dig a bunch of new, art-making, temporary neighbors? Well. Digging stuff is like part of the Venice Beach code of awesome living, yes? Truth? Truth.
Follow NBCLA for the latest LA news, events and entertainment: iPhone/iPad App | Facebook; | Twitter; | Google+; | Instagram; | RSS; | Text Alerts | Email Alerts
Copyright FREEL - NBC Local Media