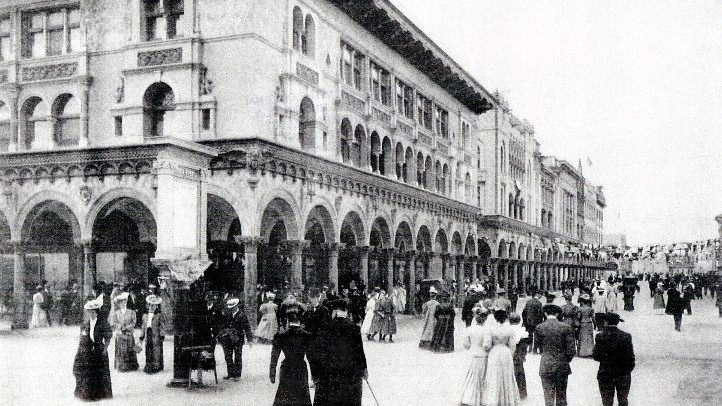 Few places on the planet rock the then and now as easily and as often as our own Venice does.
Look this way and you'll see a stately colonnade that's weathering its second century. Look that way and you'll see a bodybuilder, a kid in bulky headphones, and the latest in beach bike technology. And over there? Elegant, old-fashioned canals fronted by the occasional steel-laden modern home.
So when a photography show comes together about the then and now, bet there'll be an element of time-sliding to it, to use the ol' time traveler's term. Venice: Yesterday/Today is that show, and it is set to run for two months, starting on Saturday, Aug. 11, at the Universal Art Gallery.
Helen K. Garber is the photographer behind the exhibit; Ms. Garber visited the exact locations of earlier photos and snapped the scene again, only decades later. The result? Fascinating, of course; the eye seeks to pick out the similarities first, and then the very major differences (those usually start with style of dress).
The Venice Historical Society is behind the project as well. It's on through Oct. 14, but the opening reception is Aug. 11. Oh, and a fun fact? "Several of the photographs have never been displayed." So if you think you know your Venice top to bottom, there might be a few architectural surprises in store.
Follow NBCLA for the latest LA news, events and entertainment: iPhone/iPad App | Facebook; | Twitter; | Google+; | Instagram; | RSS; | Text Alerts | Email Alerts
Copyright FREEL - NBC Local Media