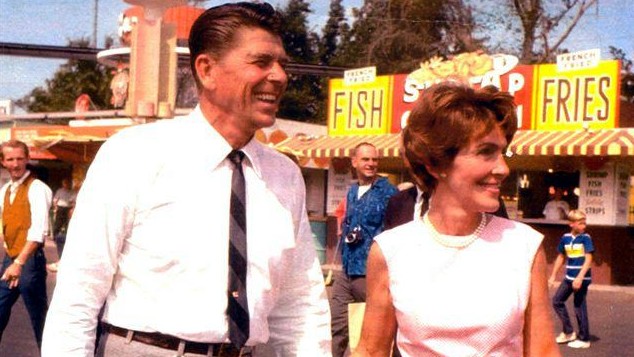 When a big anniversary is approaching, what's to be done? Oh, beyond purchasing streamers and balloons and matching cups and napkins? And rounding up the friends and fam?
Probably gathering photos or slides of the honoree in question is, by far, the most major to-do ahead of an anniversary party. And the LA County Fair is doing just that as it heads into its 90th anniversary this year. The 2012 LA County Fair runs from Aug. 31 through Sept. 30.
To jumpstart the fun, the fair people are getting serious about making 2012 a banner year. They've started it off by posting vintage photos taken on the fairgrounds on Facebook.
Yep, there's Ronald and Nancy Reagan campaigning back in 1966. Question, fair buffs: Are the Reagans standing sort of where the Pink's stand goes nowadays? We feel like that might be the area.
Now here's where you come in. Do you have a wonderful snapshot taken at the annual Pomona party? It could make the fair's Facebook memory page. You can email your photo treasures directly to Sharon Autry at the LA County Fair at autry@fairplex.com. Ms. Autry is looking for any pictures taken before 1990 (so you've got a lot of ground to cover).
Have one of you, with feathered hair and a sparkly unicorn shirt, eating cotton candy on the Midway circa 1979? We know you do. 'Fess up.
Now, two more great photos just below. The fair is looking downright big top-y in this picture from 1923. And do we love this earnest, space-sweet early 1970s family? Oh gosh, we do.
Follow NBCLA for the latest LA news, events and entertainment: Twitter: @NBCLA // Facebook: NBCLA
Copyright FREEL - NBC Local Media