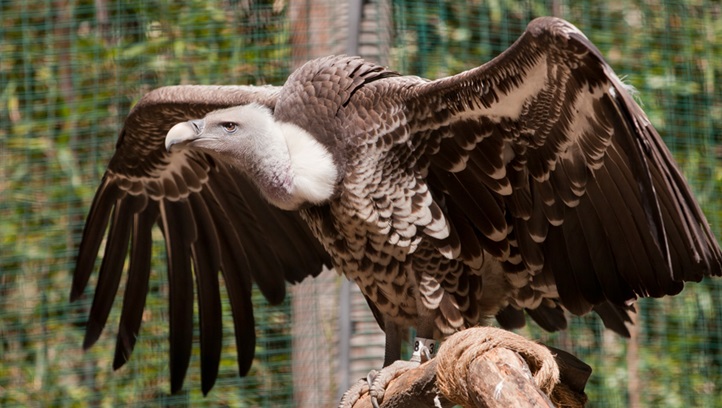 THE VULTURE-IEST TIME OF YEAR, per popular culture, arrives in September. That's when the aisles of various stores start to display Halloween decorations, and while witches and cats and owls dominate, the hulking-of-back, big-of-beak vulture makes a strong showing, too. The large fowl, like the owl, is associated with scary stories, and the scary season of autumn, and changing up the vulture's rep, at this point, may need a pricey brand consultant on retainer. Since the vultures don't have pockets, or bank accounts, or any way to pay a brand consultant, they're relegated to the spooky section of the store, and popular opinion, too.
AND YET... the vulture kingdom does possess a sort-of brand consultant, an ambassador of sorts that has already handily, and rightly, won over the public's collective heart: the California condor. It's the bird that appeared on the 2005 state quarter, and appears, regularly, as a symbol of conservation and preservation. And, yes, this beauty is a vulture, too. All vultures are beautiful, Halloween decorations notwithstanding, and learning to love them is an important part of our human compassion for all living things. The Santa Barbara Zoo pauses each year to salute the magnificent flying beasties with a day of activities and special events. That day is...
SUNDAY, SEPT. 6: It's Vulture Awareness Day at the animal park, a part of the larger International Vulture Awareness Day. "(I)nformal activities" honoring the magnificent animals, including condors, are planned, and true-blue vultureans will leave with more knowledge and affection for the vultures of all stripes and feathers. By the by, did you know that the condor is the biggest land bird on the continent? It's a neato fact, as neato as the newly introduced Condor Nest Cam, which is keeping an eye on a Big Sur-based chick. Good stuff at the zoo, in the wild, and in our vulture-respecting hearts.
Copyright FREEL - NBC Local Media