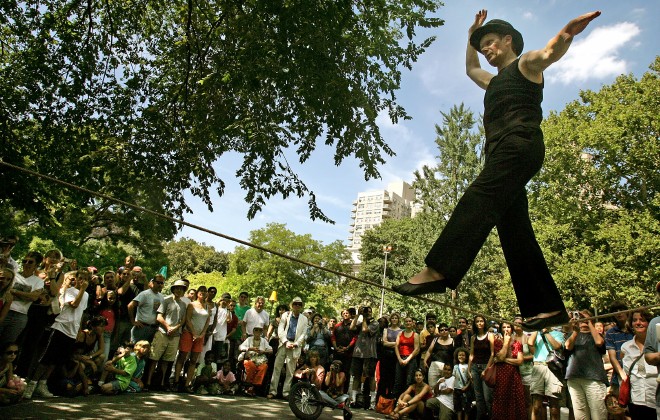 In the summer of 1974, Philippe Petit and pals stretched a rope between the tops of the World Trade Center towers. The purpose? Petit, an accomplished aerialist, intended to walk, on the tight rope, between the two buildings. Pause. Reread sentence. Yes. Between the two buildings, over 1,000 feet in the air. Pause again.
Why he did it, how he did it and the aftermath (jail time was involved) is explored in the documentary "Man on Wire," a film that nabbed the Jury Prize and Audience Award for World Documentary at Sundance this year. To people who groove on the ground -- like we do -- it almost seems fictional that a person would want to attempt such a feat. Let's start with the fact that he shouldn't have been there, so not only was he battling gravity and balance, but he was looking to battle uniformed New York authorities when he reached the other side.
And why he'd want to freely stand over 100 storeys above the street level on a rope that's as wide as a couple of fingers is also a question. But Petit has a joie de vivre that can't be denied, and the story is a riveting, joyful one, both for those who dream of doing daring things and those who like their feet planted on terra firma. Wednesday and Thursday, November 19 and 20, 7:30PM. $7. New Beverly Cinema, 7165 W. Beverly Boulevard, Los Angeles. 323-938-4038.
Copyright FREEL - NBC Local Media