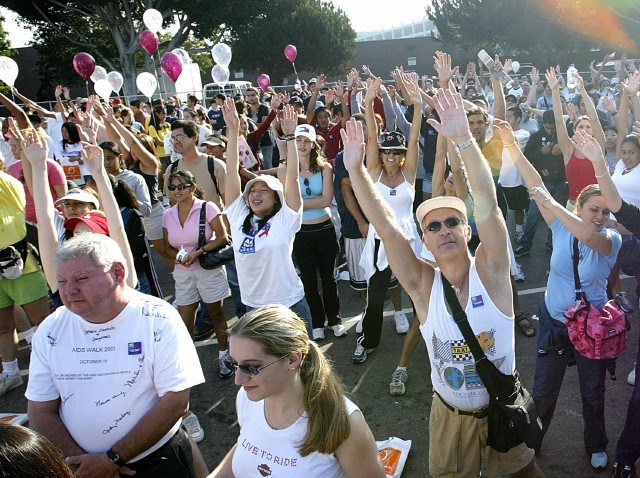 Angelenos have been joining together for a quarter century to walk on a cool Sunday morning, the better to raise awareness and funds for AIDS Project LA, as well as several other organizations around town that lend support in myriad ways.
AIDS Walk LA returns on Sunday, October 18th. And through the years the major event has continued to be a major and moving portrait of neighborly unity. The huge numbers of walkers who rise early on a weekend day and join in, year after year, is a testament to both the participants and organizers, as they help better the lives of people for whom living with HIV/AIDS is a daily reality.
While many of the 30,000 participants are on teams of friends or coworkers, single walkers are always welcome. If you can't make the 6.2-mile route (it'll take about two or three hours), there are several ways to donate, including sponsoring a participant or team or making a general donation. Jeffrey Katzenberg, who is a board member on AIDS Project Los Angeles, will speak at the 2009 opening ceremony. And a whole caboodle of celebrities will be on stage and strutting down Melrose and back west on Beverly, too, including George Takei, Wilson Cruz, Felicity Huffman, and Mary Louise Parker. Plus many, many more.
But everyone walking and being a part of this important day is a star, here, yes? It should go without saying, but we'll say it.
AIDS Walk LA 2009 is on Sunday, October 18. The starting point is West Hollywood Park at Santa Monica Boulevard and San Vicente Boulevard. Get details and join.
Copyright FREEL - NBC Local Media