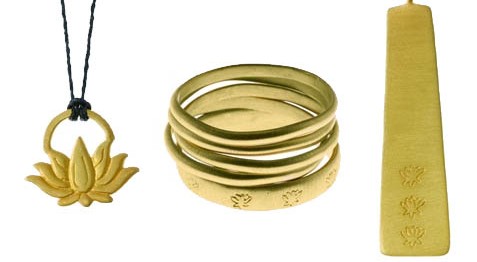 BARONI DESIGNS JEWELRY AT UNCLE JER'S: These pieces look weighty -- good weighty -- and historic, like once might come across them in a velvet-lined jewelry case in some Left Bank atelier. The lotus flower is lovely. Uncle Jer's is, too. Nice also: all the Baroni prices are pretty sweet.
ALTERNATIVE ART MARKET: The name says what you'll find -- made-with-love handmade-y items. What we're looking for at an alt art fair -- say, an odd hat -- and what we leave with -- you name it -- are probably two different things, and that spontaneity pleases us. July 25th-26th, The Majestical Roof in Pasadena
"TIKI ROAD TRIP": The big Egyptian Theatre luau on Saturday, July 25th puts us in the mind for more drinks with umbrellas, more classic bars, more vintage restaurants serving pineapple-y goodness. We've been meaning to pick up "Tiki Road Trip: A Guide to Tiki Culture in North America" for some time. We believe we shall.
OXO CHERRY PITTER: Cocktails, pies, cookies, chicken dishes, meringue-luscious desserts. It's all cherries all the time right now. Magazines, TV, our neighbor, random people at the mall: they're talking about that little red ball of tart-madness. Deal with the pits in an efficient manner, and get to the good stuff, we say. At Williams-Sonoma
BUTTERCUP CLUTCH: The pow-packing yellow and the deep black just zing together. The flower is ultra feminine. There's a wristlet handle. That's all we need to know, really. From Rejive
Copyright FREEL - NBC Local Media