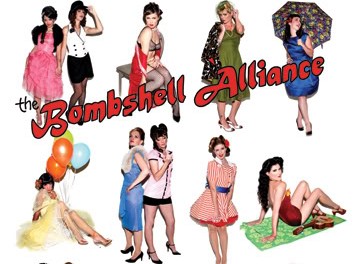 2010 is inching ever closer, and with it, the usual shelves and shelves of calendars. Puppies, castles, puppies in castles. But one calendar in particular is piquing our calendar-based interests. If you like local indie bands, and vintage pin-ups, you'll be piqued, too.
The Bombshell Alliance 2010 Calendar features LA rockers like Jen & Abby, Lelia Broussard, and Brown Shoe in pin-up poses and candy-colored, '50s-style frocks. Men and women make the calendar, which will raising money for the I Heart Media Recycling Program.
Because throwing away those old CDs and DVDs is not where it is at. Recycle those bad boys.
I Heart and the Bombshell Alliance are kicking off the calendar with a splashy to-do at Hotel Cafe on November 15th. Bet a lot of the pin-up models will be in attendance. Bet the music will be loud and listen-to-able. And the calendar you purchase? There to be enjoyed long after the party wraps.