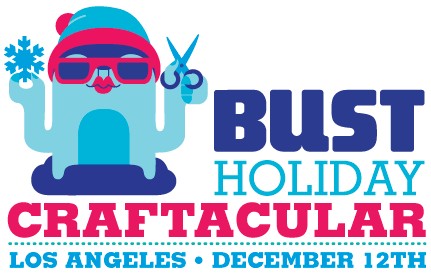 Crafty-crafty, with an edge.
The edge at this one-day-only craft fair is provided by the benevolent, oh-so-smart presence of BUST. Plus a DJ. Plus the Grilled Cheese Truck. Plus items that have been made with verve and vim by crafters who are whizzes with knitting needles and glue guns and bauble-applying implements.
Should every craft fair, by the way, have a DJ? Or music, at least. Raises the convivial spirit of the proceedings.
If you went to Unique LA, and loved Unique LA, and wish you could be doing something as neat this weekend, do this. It's at The Echo and Echoplex, daytime hours, 10AM-6PM, Saturday, December 12th, you'll pay two dollars to get in, and you should remember a can of food to donate for the Regional Foodbank.
BUSTin' out on this holiday, for real.