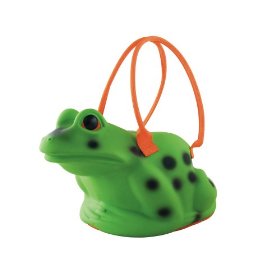 The Silver Lake Art Crawl is just around the corner. La Luz de Jesus, one of our favorite galleries, is a participating venue. And sharing a space with La Luz? Wacko and The Soap Plant.
Entire theses could be written on the wonders of this Hollywood Boulevard stuff-a-terium, and how it is impossible to walk out without at least buying a saucy postcard or fake tattoo. Because it is cheek-by-jowl with La Luz de Jesus, and because you are attending the Silver Lake crawl, we hope, we're giving Wacko a quick shout-out.
And in particular, the rubber frog handbag on the Wacko homepage. The store says, in all caps, with multiple exclamation points, BACK IN STOCK!!! Which leads us believe that this $30 purse must be quite popular.
And why wouldn't it be? A cute, not-real amphibian you can haul around with you all day. Talk about your conversation starter.