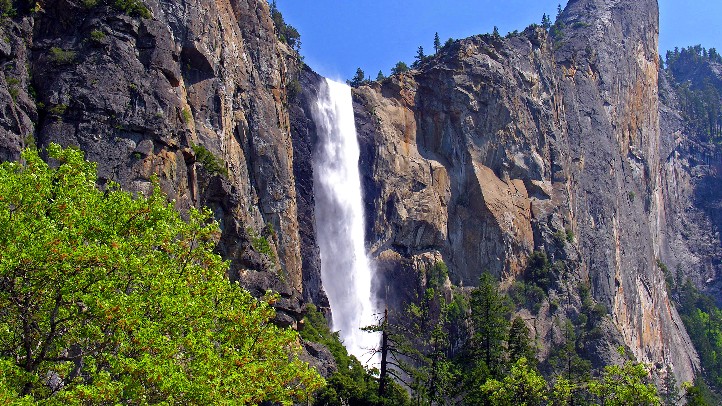 SPECTACLE TIME: Waterfalls and rainbows are too often the province of the magical fantasy or animated movie. Sometimes there's a happy unicorn involved, sometimes a talking tree. But both of those wonders do exist, and often concurrently, in Yosemite Valley. Come springtime the waters are rushing and thundering and foaming and doing all the things that waters have done since time began, and prism-y colors often result in their immediate vicinity. Yep, springtime in Yosemite is kind of like a happy animated fantasy, less the unicorn. (Now don't quote us as saying there definitely aren't unicorns in Yosemite; we have a sneaking suspicion we saw one hanging out near Half Dome.)
SPRING SHOW: We're rhapsodizing now because DNC Resorts & Parks says the waterfalls are going at it, as one would expect in early May. Let us also pause and add wildflowers to the waterfalls and rainbows roster, though, because those are all abloom at the moment. Fields of bloom, giant waterfalls, and airy hues? Fantasy, indeed, and just a few hours drive away.
TAKE THE REINS: And one more treat. The Yosemite Valley Stables open for the season on Friday, May 6. Could you be spying rainbows from the saddle? Now that is a movie.
Copyright FREEL - NBC Local Media