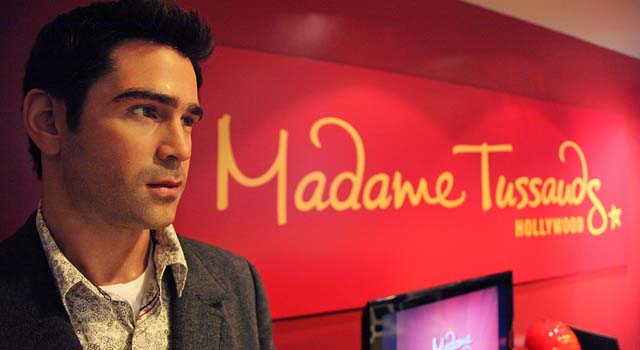 It's true that Madame Tussauds Hollywood is closer to the age of 2 rather than 250. But Madame Tussauds as a worldwide wax phenomenon? Yep. It's been around for a chunk of time. Two and a half centuries, to be exact.
But our very own, still nascent Tussauds will be joining the global party with a deal on Thursday, Dec. 1. Here it is: Get in for two bucks and fifty cents. If you've been to the museum, or know about it, you know that it is not normally two bucks and fifty cents to get in. In other words? This is something to jump on.
Also, could you do a Christmas card photo? With Robert Pattinson? Maybe Arnold Schwarzenegger? Or rather, their wax doubles? We're just brainstorming for you here.
In other Tussauds news, they've been canvasing fans about what the next museum experience should be. Tim Burton's world is certainly making a strong show. Also, the Patrick Swayze figure debuted at the Hollywood Boulevard institution last month.
One last question pertaining to the Tussauds anniversary celebration: If a sesquicentennial is the marking of a 150th anniversary, is a sesquicentennialcentennial a celebration of a 250th anniversary? Surely some wordsmith wants to weigh in on this important matter.
Follow NBCLA for the latest LA news, events and entertainment: Twitter: @NBCLA // Facebook: NBCLA
Copyright FREEL - NBC Local Media