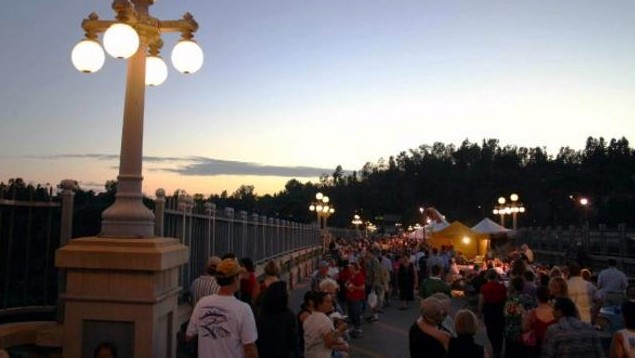 Most stretches of freeway in most places of the country are, shall we say, a bit colorless. Look to your left or right -- briefly, after all, since we're assuming you're at the wheel -- and you're likely to see mostly nothing, or the same stuff you saw an hour ago.
But then there's that stretch of the 134 right before it becomes the 210, in Pasadena. Not one but two icons sit on either side of the freeway. Look north and you've got the Rose Bowl -- you've heard of it, right? So we won't go into deep background -- and look south and you've got the historic and picturesque Colorado Street Bridge.
The Rose Bowl gets a party or two every so often, we hear, but the Colorado Street Bridge serves as a party venue very rarely. Meaning the big party on the bridge on Saturday, July 14 is worth checking out, especially if you like two things: Attending a party that is actually on a bridge -- rare, right? -- and you like celebrating local champions championing local things.
For the party will fete none other than Pasadena Heritage, the tireless group that helps keep the Crown City looking as charming and as Craftsman-y and as 1905-ish as possible. Thank you, Pasadena Heritage, for 35 years of fighting the please-don't-tear-down-this-pretty-building fight.
A day-of ticket is $16. Party starts at 6 p.m. and goes through 10 p.m., meaning you'll get to see the sun sink low as you stand above the arroyo. Yeah, you'll Instagram the heck out of it, we're pre-assuming.
Music, vintage cars, and other festive haps'll be going on around the bridge.
Just please don't be jealy, Rose Bowl, that your nearest historic neighbor is living it up for a night; the spotlight will be back on you soon.
Follow NBCLA for the latest LA news, events and entertainment: iPhone/iPad App | Facebook; | Twitter; | Google+; | Instagram; | RSS; | Text Alerts | Email Alerts
Copyright FREEL - NBC Local Media