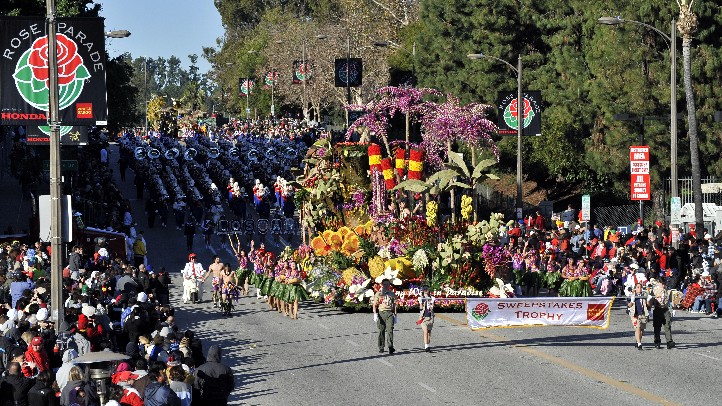 Tournament of Roses: The Bowl and Parade are on Monday, Jan. 2, but Equestfest -- that's about the horses -- and Bandfest -- that's about the tunes -- happen beforehand. You can also watch the floats getting decorated, too, or hang around after the parade for the up-close Showcase of Floats.
New Year's Eve: Where are you throwing the confetti? Making your resolutions? Giving a special someone a good luck smooch? There are places, boy. City Walk has a free shindig with fireworks, Pourtal and Rush Street have tunes, and the Queen Mary? Yep, it has its famous above-water sky show and dancing. There's the Casino Ballroom on Catalina, too. Happy 2012!
Angels Flight Anniversary: What were you doing in 1901? The Shortest Railway in the World -- wait, let's throw some quotes around that -- "The Shortest Railway in the World" -- was cranking to life at Bunker Hill. Ride the historic cars for a penny on Saturday, Dec. 31 to celebrate the landmark's 110th anniversary.
Santa Anita Park: While the Christmas-New Year's week is very much about flower-bedecked floats and dropping balloons for a lot of SoCalers, many people look to Arcadia and the ponies. Yep, it's opening week at the fabled track, meaning the traditional first weekend is a big'un. Santa Anita is open on both New Year's Eve and New Year's Day.
Surf City Splash: Look. You actually don't have to strip down to your tighties and trek into the Pacific on New Year's Day. A lot of people will be doing just that, of course, in Huntington Beach, and to raise money for the Surfing Museum, too. What? Suddenly you feel emboldened? Yay you. Figure you'll start your 2012 off in a big, if brrr-y, way. Don't forget to ask a friend to stand on shore with a camera.
Follow NBCLA for the latest LA news, events and entertainment: Twitter: @NBCLA // Facebook: NBCLA
Copyright FREEL - NBC Local Media