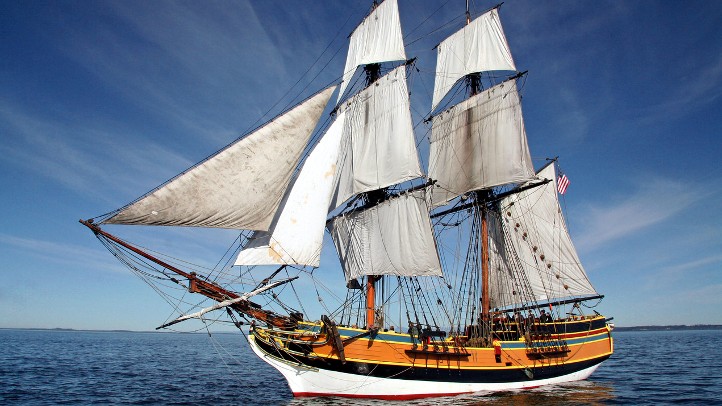 THE LADY WASHINGTON: Fans of "Pirates of the Caribbean" know that this Washington-based reproduction vessel made a cameo in "The Curse of the Black Pearl"; they likely also know, as do many history buffs, that an old-time battle sail on an 18-century ship can be an educational and spirited affair. That's what's happening right off Newport Beach on Jan. 7 and 8. Yar? Yar!
GET DOWN, DINO: It's the first Friday of First Fridays -- we'll be about the 67th person to crack that semi-joke -- and people are looking to treat both mind and dancing feet. You know this first-half-of-the-year event is at the Natural History Museum, that there are science talks, that there is music, and it is all megasaurus rad. What? You didn't know "megasaurus rad" was going to be a hot term in 2012? Friday, Jan. 6
GRAZE LITTLE TOKYO WALK: If one of your resolutions was to get out and explore the city more then here is a fine and tasty start. You'll get to know "the hidden corners" of the downtown enclave, but it isn't all learning; dining is very much involved, too. Pounded rice sounds like a delicious and necessary centerpiece to any weekend. Saturday, Jan. 7
BLOOM TIME: Here's the thing about what is arguably LA's most famous cold-time-of-the-year flower, the camellia: It blooms even when it isn't 83 degrees and gorgeous out. But, as long as it is balmy and spectacular, let us fete our winter bloom, which is popping out at The Huntington and Descanso Gardens. The camellias'll keep at for a few more weeks, but why not enjoy them when you can wear shorts or a sundress?
VINTAGE-SWEET ENTERTAINMENT: "Fiesta" opened at the Bob Baker Marionette Theater in 1964; it makes merry again starting this weekend. Richard Sherman, co-writer of many Disney faves including "The Jungle Book" soundtrack, gets a Hollywood tribute on Jan. 8; and it's Elvis Presley's Birthday Party at the echoplex on Jan. 8.
Follow NBCLA for the latest LA news, events and entertainment: Twitter: @NBCLA // Facebook: NBCLA
Copyright FREEL - NBC Local Media