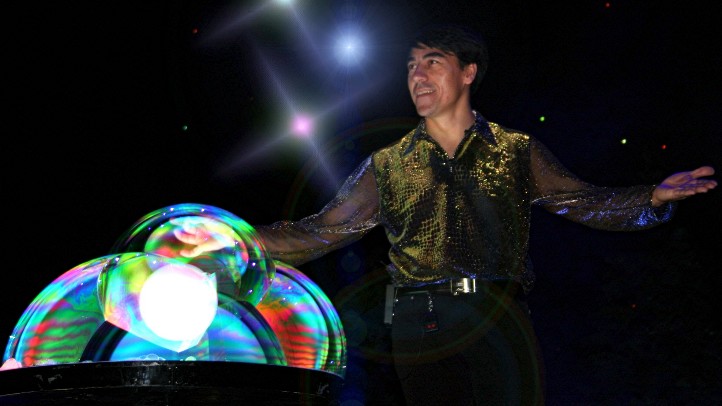 BUBBLEFEST XV: The Discovery Science Center's annual bubble party isn't quite as ephemeral as a bubble, but it won't be around for long. The 2011 dates are Saturday, April 2 through Sunday, April 24. The Mega Bubble Show is back; Fan Yang will make bubbly magic from April 2-4, while his son Deni Yang will take the stage from April 5-24. Plus, there's the thrill of making a big bubble you stand inside. We also like the bubble within a bubble within a bubble trick. Nifty.
STAR WARS Miniland: Just about 1.5 million bricks went into the seven scenes debuting at LEGOLAND in Carlsbad on Thursday, March 31. We say "just about" because we have no intention of counting them all. However, we do want to go admire Hoth and various starfighters and the Imperial AT-ATs, which seem as if they were made to be homaged via LEGO bricks. Opening weekend is sure to be huge, and we bet Comic-Con weekend will be the same.
PILLOW FIGHT: Yep, you can grab something soft from your bed and make for Pershing Square for a little friendly pillow-on-pillow swingfest. Or you can just head down to watch and snap pictures. Note that Saturday, April 2 is International Pillow Fight Day, so pillow-swingers around the world will be coming together in pillow-swinging-ness. 2 p.m.
NOIR CITY: It's true that a lot of genres have found a loving and creative home at our city's movie studios. But noir is definitely a hometown genre, pretty much since noir's get-go, and so it makes sense that it should be saluted with a mega film festival each year. This year is lucky 13. Some fedora-sporting toughie should scowl and make a bitter quip about that fact. April 1-20, The Egyptian
CHANGES: The Huntington will be shuttering its Japanese Garden for a year of renovations; Monday, April 4 is the closing date. And the Southern California Cherry Blossom Festival, originally scheduled to take place on Saturday, April 2 and Sunday, April 3, has been postponed. Organizers hope to host the festival in September (but a Japan relief fundraiser will happen in May).
Copyright FREEL - NBC Local Media