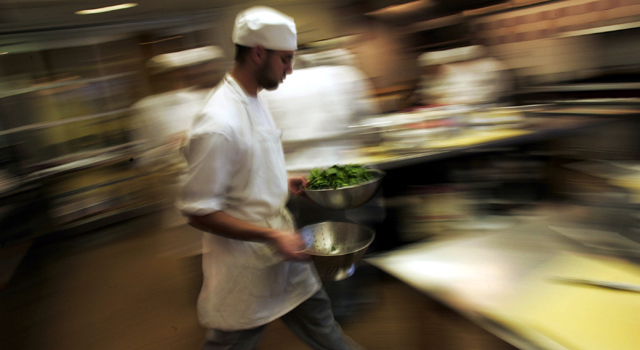 Chicken Shish-Kabob
It is time to make a delicious chicken shish-kabob served with seasonal fresh vegetables, hummus, Mediterranean salad and pita bread.
INGREDIENTS:
Chicken Breast (6 oz)
Olive Oil
Ginger
Cumin
Coriander

Turmeric
Fresh Parsley
Cinnamon
Black Pepper
Salt
DIRECTIONS:
Cut chicken breast into into cubes. Mix with olive oil, ginger, cumin, coriander, turmeric, fresh parsley, cinnamon, black pepper, and salt.
The chicken cubes will be put on a skewer with onions, bell pepper, and zucchini slices. Then, the skewers will be grilled on a barbeque for approximately 15 minutes on both sides.
(This will be a portion for one person)
Mediterranean Salad
The shish-kabobs are enough to "wow" your diner patrons but the Mediterranean Salad is perfect for a healthy sidekick to wonderful meal.
INGREDIENTS:
Tomatoes
Cucumbers
Red Onion
Fresh Parsley

Olive Oil
Lemon Juice
Salt
Pepper
DIRECTIONS:
Chop tomatoes, cucumbers, and red onion into small cubes. Add chopped parsley, salt and pepper to taste. Mix olive oil and lemon juice into the bowl with the vegetables and enjoy the refreshing salad.