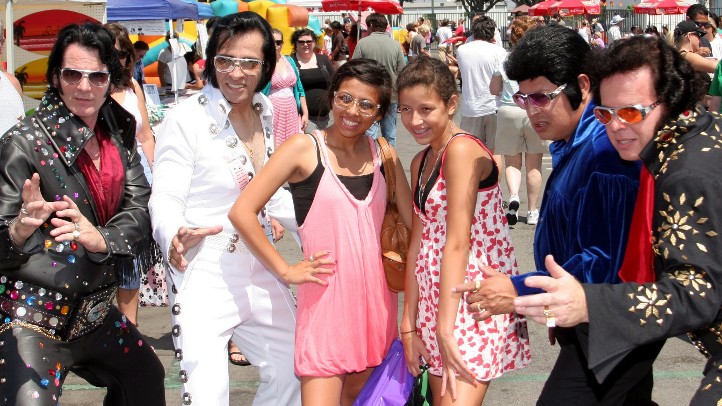 ELVIS x 2: It used to be that you'd have to be at Graceland or in Las Vegas to bask in Elvisiana. But Palm Springs and Costa Mesa are the spots to be in for King fans over the Aug. 25 and 26 weekend. There's a Kingly tribute at the Honeymoon Hideaway on Saturday, Aug. 25 and a full-on, impersonators galore Elvis Festival at the OC Marketplace on Sunday, Aug. 26. How many people are caravaning for both? We hope the cars are decked out in leis and sequins.
FIESTA LA BALLONA: Culver City's summertime festival has been around for well over a half century. Yep, there are the classic carnival rides and the easy-to-stroll-with eats and the pony rides and the wine and beer garden. It's also about the city gathering in Veteran's Park over three days and raising the roof at the end of summer. (Okay, the proverbial roof.) Culver, we'll see you Friday, Aug. 24-Sunday, Aug. 26.
AQUALILLIES IN THE WATER: If you were enraptured by the synchronized swimming competition during the Olympics, this is a fine chance to see it live, with a strong dose of old-time Hollywood glamor thrown in. The Beverly Hills Hotel's pool is the place, Cointreau is the host, and the Aqualillies are the swim-capped performers. It's free, with fancy food and cocktails for purchase. Friday, Aug. 24
TASTE OF BREWS: Honest time? We could do about anything -- fold laundry, balance our checkbook -- if we were enjoying ocean-breezy Lighthouse Park in LBC. But sipping craft beers on a Saturday afternoon? That sounds just about perfect. There are two Taste of Brews ahead, with the second headed for Dana Point in September. But this is the first. Saturday, Aug. 25
HARBOR SEAL PUP DEBUT: The Aquarium of the Pacific, which is just a short toddle away from Lighthouse Park, had a big first this week: A harbor seal pup that was born at the institution in the spring went on exhibit for the first time. Her name is Bixby and she can now be admired at the Seal & Sea Lion Habitat.
Follow NBCLA for the latest LA news, events and entertainment: iPhone/iPad App | Facebook; | Twitter; | Google+; | Instagram; | RSS; | Text Alerts | Email Alerts
Copyright FREEL - NBC Local Media