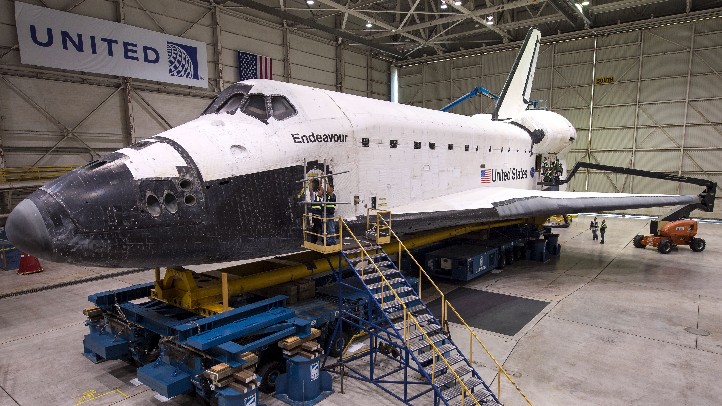 ENDEAVOUR HEADS HOME: Regardless of how long you say it takes you to get around town, the space shuttle Endeavour's journey from LAX to the California Science Center -- called "Mission 26" -- will take a bit longer. (We're being cheeky there; the transport is covering much of Friday and Saturday.) There are official places to see the shuttle pass, including the Forum and Exposition Park, and specific times, too. Note that lots of people are expected, of course. Saturday, Oct. 13
SCREAMFEST LA: So you have an indie thriller that has a few cunning ghosts and a few surprising twists and you shot it all for pennies in your uncle's garage? This October party could be your rocket to horror cinema superstardom. It has a habit of breaking next big things -- hi, "Paranormal Activity" -- and honoring legends. We want to take the zombie make-up class. Through Sunday, Oct. 21 at Regal Cinemas at LA Live
LA DECOM: It's the post-Burning Man decompression, meaning there'll be a lot of Burning-Man-esque elements -- staying up late, art installations, music happenings, sunrise -- but all right here in Los Angeles. Actually, near downtown, which makes a fine backdrop to stuff that usually goes down in the desert. It starts at 1 p.m. on Saturday, Oct. 13 at LA State Historical Park and wraps at dawn the next day.
THROW US THE WHIP: This exhibit has got a big name -- Indiana Jones and the Adventure of Archeology -- and a big presenter -- National Geographic -- and a big place to spread out over, the Discovery Science Center in Santa Ana. Not sure if you'll do any throwing of idols and/or whips, but count on learning loads of stuff about artifacts and the search for them. It's on through April 21 of next year.
SHORELINE VILLAGE PIRATE FESTIVAL: Didn't get your fill of "arrr"-ing on Talk Like a Pirate Day last month? Here's your make-up date. It's a free, water-close to-do with several pirate-y goings-on -- treasure hunts and sword fights and such -- plus harbor cruises (those aren't free, note, arrrr). Don your breeches on Saturday, Oct. 13 and make for Long Beach.
Follow NBCLA for the latest LA news, events and entertainment: iPhone/iPad App | Facebook; | Twitter; | Google+; | Instagram; | RSS; | Text Alerts | Email Alerts
Copyright FREEL - NBC Local Media