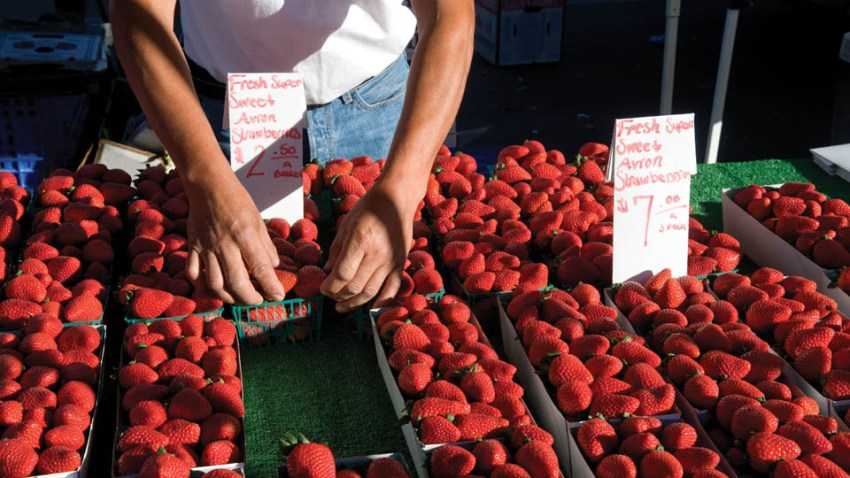 This article is sponsored by VenturaCountyWest, home to the inspiring destinations of Camarillo, Oxnard, Ventura and the California Channel Islands. To learn more about the stunning region, visit VenturaCountyWest.com.

It's hard to imagine that just one hour north of L.A.'s bumper-to-bumper traffic are craggy mountaintops, ocean views and seemingly endless fields of strawberries.

Really big strawberries.

That's what the landscape is like in Camarillo, Oxnard and Ventura, a trio of coastal communities comprising the otherworldly VenturaCountyWest. Perfect for daytime adventures like whale-watching and island hikes, the pristine area is equally equipped for nighttime revelry, thanks to its bevy of bars and locavore eateries.

And it turns out there's no better time to visit than now thanks in part to those aforementioned strawberries. On May 19 and 20, Oxnard will be throwing its annual California Strawberry Festival, where you can listen to live music, eat strawberry pizza (yes, it does exist and it is delicious) and swill strawberry margaritas.

Interest piqued? We thought so. That's why we've put together the ideal three-day itinerary to ensure your visit is packed with bell-to-bell action.

Day 1: Ventura
Kick off your weekend by exploring the Channel Islands National Park. Located 11 miles off shore and accessible by boat, these five remarkable islands are a nature enthusiast's playground. If hiking is your thing, head to Anacapa Island and take in the stunning coastal views from its well-maintained network of trails. Wildlife abounds, too; Go whale watching, or book a three-hour wildlife cruise through Island Packers and spot sea lions, seals, dolphins and ocean birds. Back on the mainland, reward yourself with fresh oysters from The Jolly Oyster food truck right on the beach at San Buenaventura State Park, then shop at Ventura Harbor Village for everything from surf gear to artisan pottery. By nightfall, you'll be ready to tuck into comfort food like clam chowder and fish and chips at Brophy Brothers, but not before first indulging in some rooftop happy hour action at Watermark On Main.

Day 2: Oxnard

The adventure continues as you rent a kayak or electric boat at Oxnard's Channel Islands Harbor. Bikes are available as well, and they're perfect for a cruise up and down the beach paths. Of course, all this activity is the best way to work up an appetite for an afternoon strawberry pie-eating contest. Head to College Park for the California Strawberry Festival, where more than 50 vendors will be offering culinary strawberry creations while a wide assortment of bands (everything from rock tribute groups to '80s-inspired acts) play on three outdoor stages.

Day 3: Camarillo
Here's a little known fact: Some of the best restaurants in the U.S. can be found at small general aviation airports. Don't believe us? Drive to the Camarillo Airport, where you'll stumble upon Waypoint Café, an old school joint known for its indulgent breakfast. Grab a spot on the patio and order a grilled sourdough breakfast sandwich and a short stack of buttermilk pancakes, before washing it all down with a double-chocolate shake. Then, head over to the Commemorative Air Force Museum's giant open hanger, where you can peruse vintage aircraft like the F8F-2 Bearcat and the Curtiss C-46-F Army Transport.

For a full list of hotels, restaurants, dining and entertainment in Camarillo, Oxnard and Ventura, visit VenturaCountyWest.