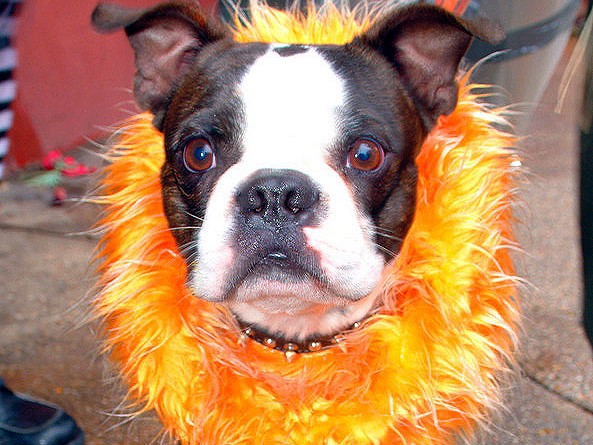 STROLL SILVER LAKE, ABBOT KINNEY, MELROSE... A lot of people have a list for this weekend, a list that's been either penned or thumbed, and most of those lists contain the same word: shopping. It's the frantic-est time of year, so why not make the purchasing of le stocking stuffers something celebrational? Look at all the thoroughfares around town that are doing a little something extra.
SILVER LAKE HOLIDAY NIGHTS OUT: There'll be three of them, over three consecutive Fridays, and Friday, Dec. 3 is the first. Shops on Rowena to Hyperion will have various December-y deals and cocoa-cool songs, etc. You like this area, so support it. You don't need to bring a dog in a boa, as pictured above, but if you *have* a dog in a boa, consider it.
LOZ FELIZ HOLIDAY FESTIVAL: If you're still in the nabe on Saturday, Dec. 4, Los Feliz is throwing its holiday festival. Again, shopping for non-run-of-the-mill products will be the order of the day, in addition to using words like "nabe" with flair.
LESS MALL/MORE MELROSE: Groundlings goodliness and lace-up-boot badliness and all of the other things the stretch that runs from La Brea to Fairfax offers, but with a seasonal touch. Oh yeah, and if you're there, and you're over 21, and you like holiday cocktails, you'll want to stop by the Village Idiot with a bit of cash. Saturday, Dec. 4
ABBOT KINNEY HOLIDAY WEEK: It's rounding out the weekend on Sunday, Dec. 5. Santa will make a ho-ho-show, in addition to some "holiday sights & sounds." This byway is pretty baubled out and holiday-ish year-round, so we can't wait to see all the fripperies the Venice burg'll lay out. Bet it'll be sweet. Plus, a bit of salt air adds flavor to the season.
MORE: There are historic home tours, yes; then there are holiday-nice historic home tours that involve eating. West Adams is throwing To the Manor Reborn on Dec. 4 and 5, and there's a progressive dinner option. In Santa Barbara, they're breaking out the snow near the snow leopards and letting kids 12 and under go sledding on Sunday, Dec. 5.
AND: Studio DNA hosts a bazaar in support of Good Shepherd Shelter on Sunday, Dec. 5; pups prance at the AKC/Eukanuba National Championship on Dec. 4 and 5; and a famously tasty (and well-attended) festival bows in Indio over the weekend as well.
Copyright FREEL - NBC Local Media