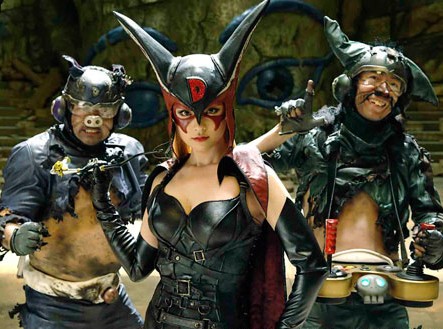 JAPAN FILM FESTIVAL LOS ANGELES: Three weekends and four locations: Hollywood, Torrance, Los Angeles, and Irvine. The opening night movie, "Yatterman," takes on the famous superhero. "Ramen Girl" with Brittany Murphy is also scheduled to play the fest. April 10-25
12TH ANNUAL LOS ANGELES FILM NOIR FESTIVAL: This multi-week cinefeast has been attracting noir stars and all sorts of fans ready to lap up the long shadows and dirty dealings and bad-to-the-bone dames and gents who populate the genre. A genre that belongs very much to LA, as we've bloviated before. "Walk a Crooked Mile" plays at the Egyptian on Sunday, April 11.
ART + DESIGN OPEN MARKET: Over 100 artists connected with Art Center and Pasadena City College will be displaying -- and selling -- around One Colorado. You want new art. You need new art. And you've been wanting to make new discoveries, and find fresh names to back, and to do it without having to sell all the pieces you already own. This is a fine and lovely start. Sunday, April 11
ROSE BOWL FLEA MARKET: If you plan on making for the Art + Design Open Market, you won't be too far from the Rose Bowl, and the Rose Bowl Flea Market. Do you need a vintage stand to hold the sculpture you just might purchase at the Open Market? Probably. Regular admission -- $8 -- starts at 9 a.m.
TV STAR HAPS WORTH REPEATING: Neil Patrick Harris hosts the Annual Awards for the Academy of Magical Arts at Avalon Hollywood on Sunday, April 11; and "Glee" gets a sneak peek at the Grove on Saturday, April 10 (no word if stars will show, but bet you'll be with hardcore Glee-ers.)
Copyright FREEL - NBC Local Media