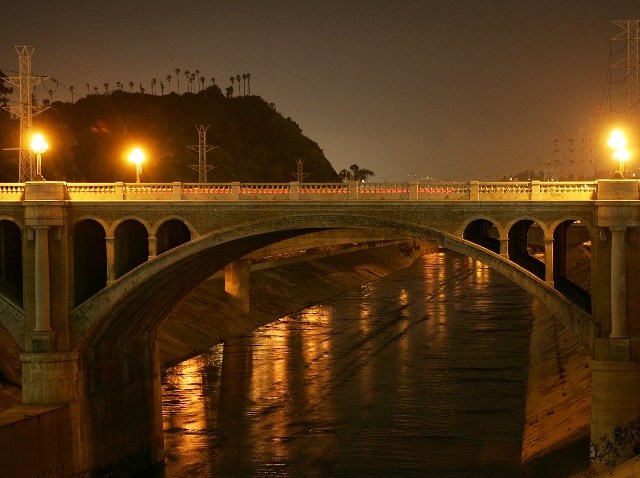 EXPLORING THE LA RIVER: The lure of cream puff consumption might be enough. The chance to see a heron or coot in flight is definitely enough. But going out and supporting our city's fabled waterway with Hidden LA is the best bit. Join in on Saturday, Aug. 21. (Note: We couldn't resist this atmospheric nighttime shot of the river, but note that this is a daytime event.)
SUNSET JUNCTION STREET FAIR: Fishbone and Everest and many more acts are playing. There will be food. Oh, will there be food. And a general conviviality and loving on all things Silver Lake. You'll probably want your tickets ahead of time, we imagine. Details. Saturday, Aug. 21 and Sunday, Aug. 22
LA MUD RUN: It's a welcome bit of news that this extraordinarily squishy spectacular happens in one of the driest stretches of the year. The run this year is at the Rose Bowl on Saturday, Aug. 21. Just because we said "squishy" doesn't mean this is a cake walk. A caked-on-mud walk, perhaps.
LACMA MUSE 'TIL MIDNIGHT: We're going to anything that promises "turn-of-the-century paranormal devices from a past that never was." Wouldn't you? This is the late-night vaudeville-y party at the Los Angeles County Museum of Art. Corsets on display, and art, too. Bet you'll spy a monocle or two, too. Saturday, Aug. 21
ALSO: Nisei Week wraps; don't miss the Ondo dancing, or gyoza-eating contest. That Ray Harryhausen model exhibit is ending at the Academy, too. Don't tell us you'd miss out on Medusa from "Clash of the Titans." You can look straight into the eyes of this one, too.
Copyright FREEL - NBC Local Media