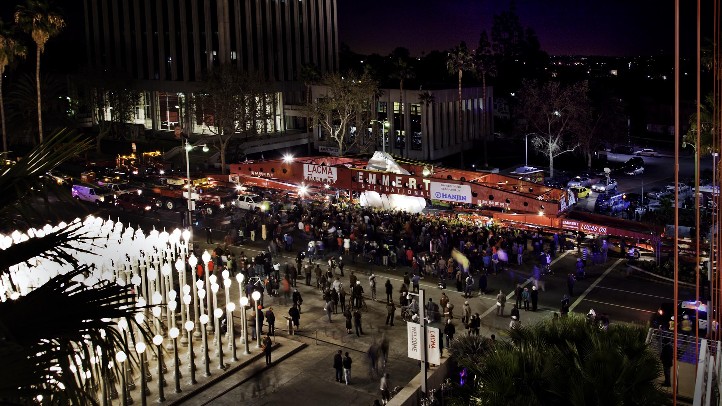 "LEVITATED MASS" OPENS: It's rare for thousands of people to have witnessed a single element of an incomplete artwork, but that's the case with a certain 340-ton boulder that traveled from the Inland Empire to LA last spring. It's now part of a giant, walk-through installation at LACMA which will open on Sunday, June 24. Oh, and if you live in a zip code along the rock's route? Free LACMA admission for a week. Details.
HOLLYWOOD BOWL OPENING NIGHT: Big names, big fireworks, big big big. You know the stars'll be out for the Friday, June 22 opening -- this year those stars include Chaka Khan, Reba McEntire, and Julie Andrews -- but can you name what season this is for the performance landmark? If you said "91st" we'll ring the ding ding ding bell. That's a good long time to be making music fans happy.
CALABASAS MALIBU WINE & FOOD FESTIVAL: If it is grown, sipped, stirred, grilled, or baked in the Malibu-Calabasas nexus, it will be very likely poured into a glass or placed on a plate at this Saturday, June 23 and Sunday, June 24 festival. It is happening in Calabasas -- thought we'd mention, since two towns are involved -- and spirits are part of the celebration, too.
DOGGIE STREET FESTIVAL: It's been a sweet staple of San Diego for nearly a half decade; now "California's Largest Pet-Focused Adoption Festival" is making its way north on Sunday, June 24. Cats will be part of the day, too, kitty lovers. It's woofing at the Westfield Century City.
LA BEARD AND MUSTACHE COMPETITION: Winter is much associated with facial hair -- that's when men so often grow whiskers, the better to keep warm -- so to see this good-natured contest go down on the weekend after summer's start charms us. And there are some quirky categories, boy. It's at The Belasco on Sunday, June 24.
Follow NBCLA for the latest LA news, events and entertainment: iPhone/iPad App | Facebook; | Twitter; | Google+; | Instagram; | RSS; | Text Alerts | Email Alerts
Copyright FREEL - NBC Local Media