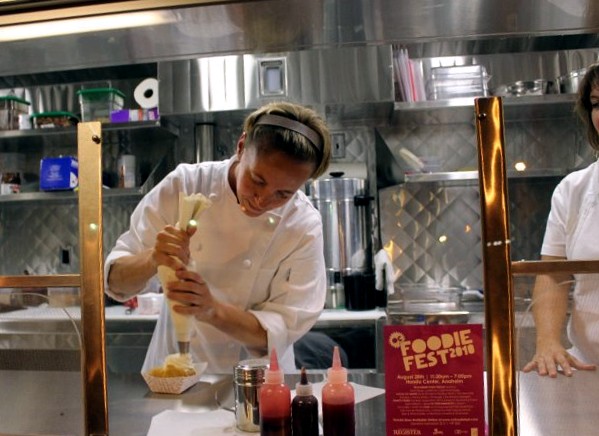 OC FOODIE FEST: Dozens of food trucks are turning off the ignition at the Honda Center and turning on the grills and the fryers and the Crockpots and the little contraptions that melt chocolate. This is a one-day-only deal. Saturday, Aug. 28. Bet it'll be bustling, too.
SUNSET STRIP MUSIC FESTIVAL: The headline on this one, outside of the major headliners (Slash, Common, Smashing Pumpkins, Kid Cudi), is that part of the Strip will be closed for concert-making on Saturday, Aug. 28. Now that is a serious old-school music festival.
THE SECRET HISTORY OF LA: Esotouric is doing a tidbit-packed Bunker-Hill-y gadabout, with a stop at Clifton's Cafeteria to boot. We've been thinking about Clifton's Thanksgiving-ish turkey plate. It's the heat. We want November. We also want details on downtown that have been previously unknown to us. Saturday, Aug. 28
MOVIES AND TELEVISION: John Williams is covering the film music you might have heard -- like "Star Wars" -- at the Hollywood Bowl on Friday, Aug. 27 and Saturday, Aug. 28. And the 62nd Annual Primetime Emmy Awards salutes all things small-screen-ish at the Nokia Theatre on Sunday, Aug. 29.
LBC, CULVER, ARCADIA: People snap pictures of their city and each other in Long Beach starting at noon on Saturday, Aug. 28; Culver City parties at the three-day Fiesta Ballona; and the redwhite+bluezz Pasadena Jazz Festival plays at the Arboretum on Saturday, Aug. 28 and Sunday, Aug. 29.
Copyright FREEL - NBC Local Media