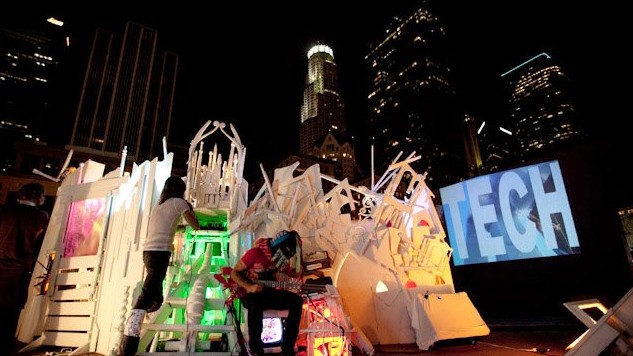 Thank you, Pershing Square.
We just had to pause there and pay homage to a downtown square that isn't merely an empty space that goes dark when the work day is done. Instead, it hosts a number of shows and a holiday ice rink and a night where artists set up illuminating, sparkly installations.
That night is nearly upon us -- it is called Autumn Lights LA -- and the upshot is this: Whimsical and strange and beautiful artworks and lit-up mannequins and tiny structures and walk-in installations will dot Pershing Square from 6 p.m. to 1 a.m. on Saturday, Sept. 22 (dipping into Sunday, of course).
Curator Lilli Muller, who is one of the major supporters of the downtown art scene, has just one request of artists and visitors alike: Be the light.
Past Autumn Lights have involved participants sporting glow-in-the-dark paint, twirly laser lights, rainbow-hued tents, black-light performances, and rows of eerie obelisks.
Oh, and speaking of glow-in-the-dark paint? Dogs are welcome at the "Glo Dog" pet parade; glowing pet collars will be provided.
In a city not known for its autumn, it is a rather wonderful way to welcome the season. Nope, we don't have leaves going red, but we do have laser lights and glow-in-the-dark spheres. Which, really, is pretty LA.
As is a downtown square that hosts people on the weekends for art happenings. That's worth mentioning, as we live in a world where many a square can sit empty on the weekends. Thanks, Pershing Square, for staying alive afterhours.
bottom photo: Rick Mendoza
Follow NBCLA for the latest LA news, events and entertainment: iPhone/iPad App | Facebook; | Twitter; | Google+; | Instagram; | RSS; | Text Alerts | Email Alerts
Copyright FREEL - NBC Local Media