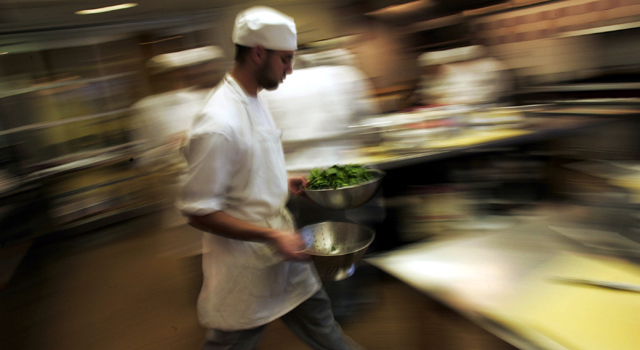 This is a popular Mexican dish known as Chilaquiles. The fried tortilla strips stay crisp in the tomatillo, cream and cheese sauce. It is usually served with a fried egg on top.
Good addition: Shredded chicken.
INGREDIENTS:
2 tablespoons vegetable oil
1 teaspoon diced onion
2 Large eggs

Dollop or two of sour cream
1/4 pound Queso Fresco close flavor to fresh ricotta
GREEN SAUCE INGREDIENTS:
2 lbs drained canned tomatillos or fresh
2 cup stock or water
2 fresh Serrano chilies, seeded and roughly chopped

2 garlic cloves
12oz Tomatoes canned peeled with juice
Salt and pepper
For the green sauce:
In a pot add water or stock, fresh tomatillos, tomatoes, chilies, cloves, salt and pepper.

Cook till soft 30 min low heat.

Place in blender minus the stock and juice.

Blend while adding cooked stock till thick smooth consistency.
For the Chilaquiles:
Cut the tortillas into triangles fry in shallow pan with 375 degree oil or table top fryer till crispy.

In an 8inch pan add onions and oil and sweat slightly

Add crispy chips to pan and add green sauce coat evenly

Toss a couple times

Place on plate

Add fried egg on top

Sprinkle generous amount of queso fresco

Add more green sauce

Add dollop of sour cream serve immediately.

And Enjoy, Enjoy, Enjoy!