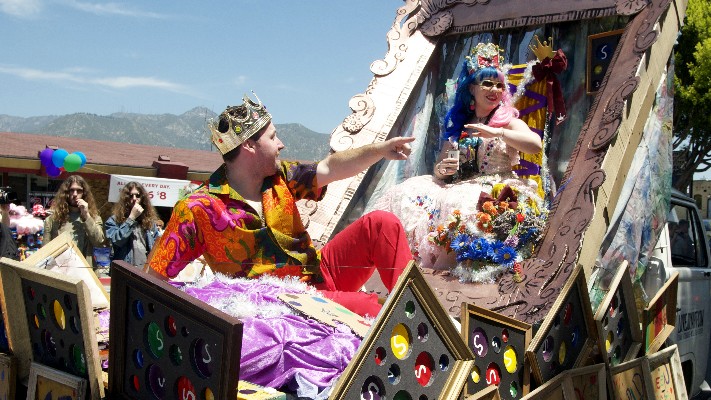 DOO DAH PARADE: Face facts: You may leave the 34th Annual Occasional Doo Dah Parade wearing something you didn't arrive in. (Beads? Stickers? Feathers?) It's the loosest-goosiest march in all the land, it'll probably start at 11 a.m. on Saturday, April 30, if everyone feels like that's a good time to start, and it'll unleash all brands of outlandishness upon the good city of Pasadena.
SANTA CLARITA COWBOY FESTIVAL: The soundtrack? Spurs clankling along a dusty street, and poetry of the range, and probably a banjo or two. The setting? Beautiful Melody Ranch Motion Picture Studio, which was once owned by Gene Autry. The haps? Anything that can be done in a pair of broken-in chaps. The dates? April 27 through May 1.
BRITWEEK: We're heading into weekend #1 of the fortnight-plus-a-day extravaganza known 'round these parts as BritWeek. It's a citywide celebration of UK/LA relations, and of the some half million British citizens who call Southern California home (the organizers' estimate). What's your pleasure? Stars, fashion, food, film? Get chuffed; they're all part of the party.
CHILI COOK-OFF: Firefighters stirring up the most piquant, fan-the-hand-in-front-of-the-mouth-iest chili? At Barney's Beanery? All for a good cause? It's an annual tradition. And it's actually grown so large it happens *in front * of Barney's, in West Hollywood. Music and merriment will also ensue. Saturday, April 30.
BOOKS AND COMICS: The Los Angeles Times Festival of Books makes the jump to USC, while Wizard World's Anaheim Comic Con welcomes those in capes, and those who wish they were, at the Anaheim Convention Center. The Festival of Books runs from April 30 through May 1, and Anaheim Comic Con saves the day(s) from April 29 through May 1.
Copyright FREEL - NBC Local Media