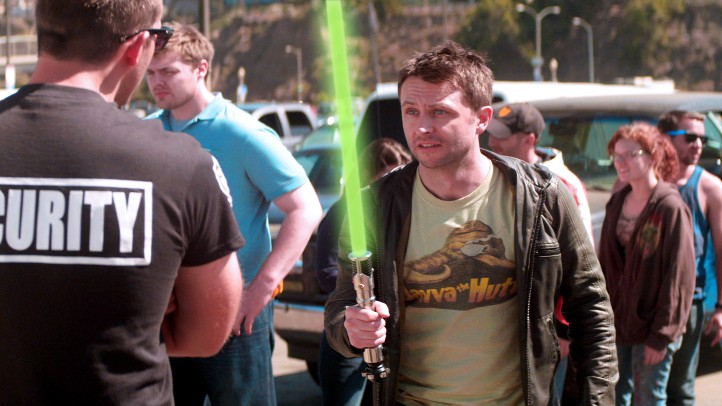 COURSE OF THE FORCE: Comic-Con in San Diego is still a few days off, but the sci-fi shenanigans will start early in Santa Monica when "Star Wars"-loving runners run a relay using a light saber as a baton. Why, pray tell, are they doing such a whimsical thing? To raise money for the Make-A-Wish Foundation. The team'll end up at Comic-Con on Wednesday, led by Nerdist's own Chris Hardwick. Yoda would approve of the heart behind this, he would. July 7-11
USS IOWA OPENING: It is one of the largest of the WWII battleships and certainly one of the most storied. And after several years up in Richmond, the iconic ship is set to open as a museum at Berth 87 in the Port of Los Angeles. Opening day is Saturday, July 7. What will you see once aboard? History, tales, and the workings of an epic vessel. Interesting stuff for history and sea buffs alike.
TREASURES OF THE WALT DISNEY ARCHIVES: Disney fans the world over make for Anaheim on a regular basis, but now they'll have Simi Valley and the Reagan Library on their radar, too. A large-scale show full of costumes and props and scripts will open at the presidential institution on Friday, July 6. The exhibit is on through April 2013. Say, did you know that Ronald Reagan co-hosted the opening of Disneyland back in 1955?
FILM, FILM, AND MORE FILM: The oh-so-popular Old Pasadena Film Festival marks its opening weekend. It's free, it is located in the charming One Colorado Courtyard, and it is on every Thursday, Friday, and Saturday through the end of July. (Romcoms are Friday nights, lovers.) And downtown? Interesting flicks and docs with edge and verve. The Downtown Film Festival rolls at various venues from July 6 through July 13.
AND MORE FUN FILM: And here's the twist on this one: Grauman's Chinese Theatre is celebrating its 85th birthday and we all win. The next birthday-cheerful deal? Family movies for a quarter a person on Saturday mornings during July and August. There's a six-ticket limit, note. Also note that these'll be way popular. If you really want to go, queue up early and have that quarter in pocket. Starts Saturday, July 7.
Follow NBCLA for the latest LA news, events and entertainment: iPhone/iPad App | Facebook; | Twitter; | Google+; | Instagram; | RSS; | Text Alerts | Email Alerts
Copyright FREEL - NBC Local Media