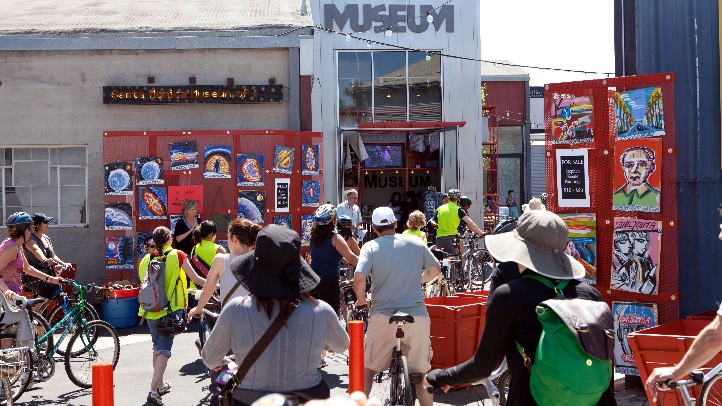 Sunset Strip Music Festival: There are a bevy of club events and boulevard-close events during the first part of the Aug. 16-18 festival -- Doors Day is on Aug. 16, if you want to pay homage to that quintessential LA band -- but Saturday is the mondo day of the hard-rocking party. Why? Part of Sunset Boulevard will be shut down to make way for Marilyn Manson, The Offspring, De La Soul, and more headliners.
Tour Da Arts: Cycling meets culture at the annual Santa Monica Museum of Art bike ride. Riders -- of all ages, note -- will meet at the institution at noon on Sunday, Aug. 19, and then head out for an afternoon of stops filled with music and performances. It's free, with a five-buck fee for an additional workshop, but you'll need to register ahead of time. It grows each year, so you and your two wheels should arrive early.
Festival of Arts Fashions: The event-crowded Festival of Arts has a famous marquee series in the Pageant of the Masters, but the Laguna Beach summer series has a number of other to-dos that regularly draw eager crowds. The fashion show built around recycled and reclaimed goods is one of the calendar favorites. It struts its surprising sartorial stuff on Saturday, Aug. 18.
Wings Over Camarillo: Dozens of vintage planes, many that flew in World War II, will take to the summer skies above the Camarillo Airport. A few other nice things are in store, like the 67th reunion of the Checkertail Clan, and a Saturday night dance filled with 1940s-era tuneage. That's a separate ticket, so check it all out before taking to the 101. Saturday, Aug. 18 and Sunday, Aug. 19
Lovely Libations: The heat hasn't quite left us yet, so if you're looking for a fancy foam-based cool-down, make for downtown and the LA Craft Beer Crawl on Saturday, Aug. 18. Prefer chardonnay to hops and barleys? The LBC Grand Cru will be swirling and lifting glasses to the light. That's also happening Aug. 18.
Copyright FREEL - NBC Local Media