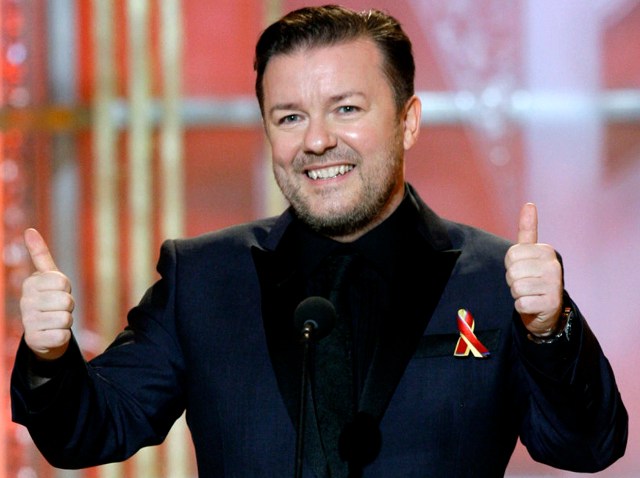 68TH ANNUAL GOLDEN GLOBES: TV, films, stars acting famously loosey-goosey, and a lot of limos in front of the Beverly Hilton. All on Sunday, Jan. 16. And, from the Two Word Files come this pair of very pleasing letter groupings: Ricky Gervais. He's hosting again, proving that good things can happen twice.
THE WRIGHT STUFF II: Hmm. Letting a man famed for tearing apart a sweet London pub, via hordes of zombies, take over your theater for a week is pretty chancy, New Beverly. But then again, the man is director Edgar Wright, who made "Shaun of the Dead" and "Hot Fuzz" and "Spaced," one of the best TV shows in TV-show-dom. So we get your reasons. Mr. Wright'll be appearing at the cinema, a lot, starting on Friday, Jan. 14.
BEVS BASHES: Those "winter warmers," the Bocks, are the star sips at The Olympic Collection on Saturday, Jan. 15; wines of a richer, redder hue are the centerpiece of Pinot Days, which is pouring at Barker Hanger in Santa Monica on the same day (note, however, that there are several pinot-y events orbiting the Barker bash in the coming days).
"LAST MAN STANDING" : That's how late the Performance Marathon at Theatre of NOTE will run on Saturday, Jan. 15. People are just going to stay up on the stage, making funny, making drama, making entertainment, and then when they can't do it anymore, they will not. Alfred Molina, Doc Ock himself, will appear for the fundraiser. Here's the full rundown.
BILLY DEE WILLIAMS: The actor is stopping by to meet "The Empire Strikes Back" fans at the Los Angeles Comic Book and Science Fiction Convention, which is happening on Sunday, Jan. 16 at the Shrine. What do you like best about the character of Lando Calrissian? Would that be pretty much everything? That's our answer, too.
Copyright FREEL - NBC Local Media