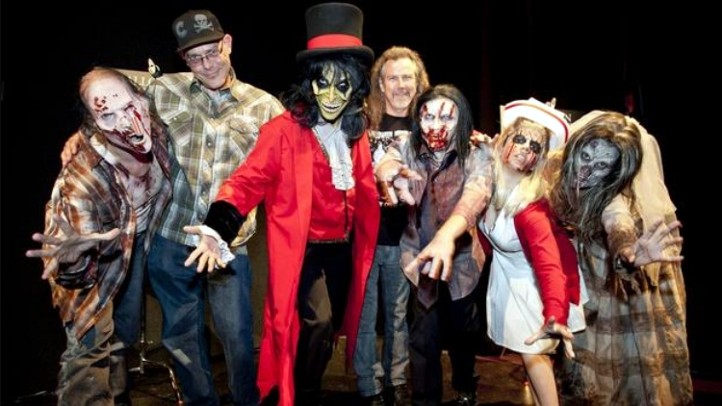 MONDO MAZES: While we have loads of charming and scary mazes like other cities, we also have theme parks, which put on major, atmospheric autumn extravaganzas each year for the spooky season. Opening on Friday, Sept. 21? There's Halloween Haunt at Knott's Scary Farm, which marks its 40th this year. And at Universal Studios? The Walking Dead are out -- and a few classic monsters, too, like Frankenstein and Dracula -- for Halloween Horror Nights.
LOS ANGELES CHOCOLATE SALON: Walk around Santa Monica Civic on a Sunday afternoon, nibbling on fancy-pants confections and candies filled with unusual spices, flower petals, and occasionally bacon? Ooookay, if you insist. This annual tasting show, that feels like it should be only open to candy makers but is open to the public, is filled with some of the swankest sweets around. Sunday, Sept. 23 (no tickets sold at the door, fyi).
BIG ORANGE BOOK FESTIVAL: Been hankering for a good-sized, two-day, authors aplenty page party? Chapman University in Orange has it on Friday, Sept. 21 and Saturday, Sept. 22. A special 50th anniversary screening of "To Kill a Mockingbird" is planned, as is a brass-bright session on the ever-popular genre of steampunk. Alice Sebold and Sapphire are two of the headlining authors of the inaugural festivity.
"THE CLOCK": By now you may have heard about artist Christian Marclay's epic cinematic wonder "The Clock," which is a 24-hour film full of clips showing actual clocks that show the actual time the viewer is in. It's been extremely popular -- queues can form during afternoon and evening hours -- which may be one reason it is back at LACMA, for a single day, on Saturday, Sept. 22 starting at noon. Another reason? It's amazing, truly.
HOBBIT DAY LA: Lovers of the Shire and adventure will gather in Griffith Park on Saturday, Sept. 22. Why? That's Hobbit Day, of course, which is part of Tolkien Week. The book will be read, in honor of its 75th anniversary, a potluck picnic will be enjoyed, and other Middle Earth-like festivities will reign. Want to join? You'll want to RSVP, brave Hobbit.
Follow NBCLA for the latest LA news, events and entertainment: iPhone/iPad App | Facebook; | Twitter; | Google+; | Instagram; | RSS; | Text Alerts | Email Alerts
Copyright FREEL - NBC Local Media