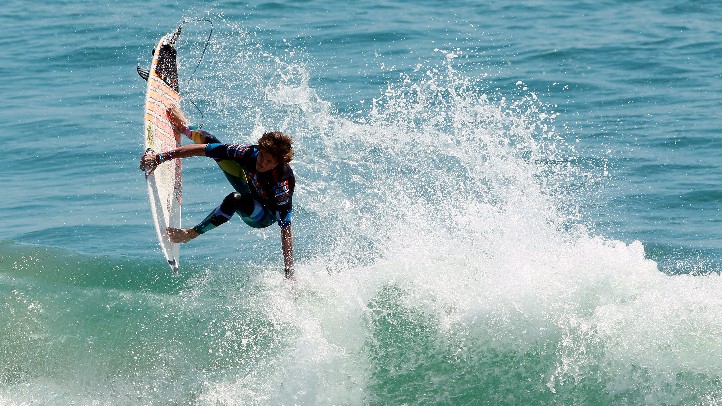 NIKE U.S. OPEN OF SURFING: If we were to compare surfing events in terms of shells found on the sand, this would be the big, colorful conch. It's that major and it attracts some of the biggest board stars in the world and it runs for nine days and it invites a bevy of buzz-attracting bands and there are beachy activities aplenty. Oh, and it happens to be in Huntington Beach, which we'll just refer to as Surf City, its rightful moniker, on this occasion. Saturday, July 28 through Sunday, Aug. 5.
CHINATOWN SUMMER NIGHTS: There are just three of them -- this year they'll fall on July 28, Aug. 11, and Aug. 25 -- but they pack a wallop. Wallop-maker #1? They're free. Wallop-maker #2? They're in beautiful historic Chinatown Plaza. Other wallop-y haps? Food trucks, DJs, an eight-person pillow fight, crafts for sale, stores to browse, and bands, too. Best of all, it starts early, at 5 p.m., so it doesn't have to be your last stop of the evening. But will you want to leave?
LONG BEACH CRAWFISH FESTIVAL: The word we always scan for when we see this long-time eat party come back around again? Bucket. If we didn't see the word "bucket" on the web site, our crawfish-loving heart would crack. Not only does your Bucket Feast hold three pounds of crawfishery, but there's corn on the cob and other goodies, too. Zydeco and beignets are two other tasty things about the weekender. Saturday, July 28 and Sunday, July 29.
DAY OF THE COWBOY AND COWGIRL: Cow-roping, hoedown-type tunes, a scavenger hunt, and an up-close visit with a "working 1880s chuckwagon" are four of several activities yippee-ki-yay-ing at the Autry on Saturday, July 28. Young buckaroos, or not-so-young buckaroos, for that matter, are invited to come dressed, but note that no gun replicas will be allowed. Museum admission gets you in, pardner.
OLYMPICS IN LA: While we all turn to our TVs and computers to watch the five-ring-style action in the faraway UK, a number of LA bars and hotels have Olympics-themed specials going on. One that particularly charms us? The bar at the Beverly Garland will give patrons a free Guinness any time an Olympic or world's record is broken. Cheers, mate, to that.
Follow NBCLA for the latest LA news, events and entertainment: iPhone/iPad App | Facebook | Twitter | Google+ | Instagram | RSS | Text Alerts | Email Alerts
Copyright FREEL - NBC Local Media