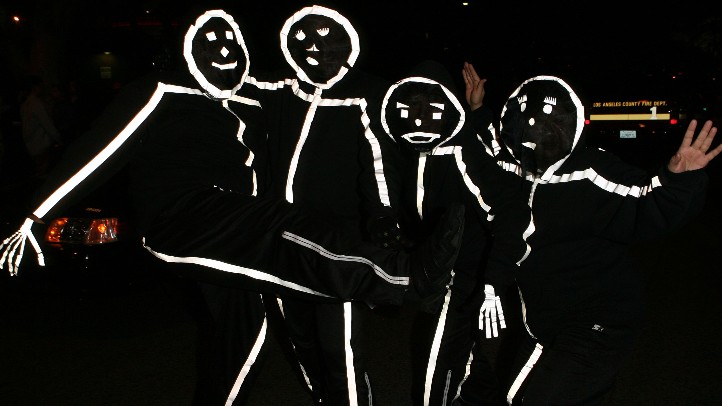 If you've done "the largest Halloween street party in the world" -- that would be the West Hollywood Halloween Costume Carnaval, of course -- you likely remember a few rules that you've repeated time and again to newbie friends.
1) Footwear. Think about it. No. THINK about it. The stilettos that look fab in front of your full-length mirror will not be your feet's friends after seven blocks on Santa Monica Boulevard. Pack them and slip them on later.
2) Outerwear. Isn't it like a zillion degrees or no degrees on Halloween night? More the former, what with our late October Santa Ana winds.
3) Parking. This actually should have gone first, probably. Getting to the West Hollywood Carnaval, which regularly attracts a half million revelers -- let's type that again, and put it in italics -- a half million revelers -- is always a spectacular effort come Oct. 31.
The Orlando, just a pop south of WeHo on West Third, has an offer on to help with that last bit. It's a stayover special, and while it has some fun additions -- a trip to the nearby Trashy Lingerie for a costume fitting and a Bloody Mary brunch at its on-site restaurant, The Churchill -- this is the feature catching our eye: "Late night transportation to & from the West Hollywood Halloween Festival."
Done. Bingo. Hello. If you're going to go, but want to stay nearby, and don't want to walk the fifteen blocks to your car or a cab like last year, maybe this is your ticket. It starts at $289, and there are things we didn't mention, like two tickets to the Dia de los Muertos fest at Hollywood Forever on Oct. 27 (obviously you'll need to make your reservation ahead of that date).
So, what's your plan? Sensible footwear, the right jacket, and the whole parking thing worked out, or a stayover at a nearby hotel? We love you, WeHo Carnaval, but definitely when we map out a few things ahead of Halloween.
There's an app for that, right?
Follow NBCLA for the latest LA news, events and entertainment: iPhone/iPad App | Facebook; | Twitter; | Google+; | Instagram; | RSS; | Text Alerts | Email Alerts
Copyright FREEL - NBC Local Media