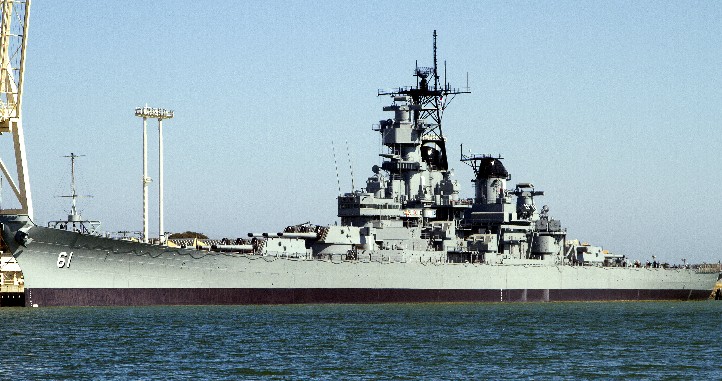 Certainly the history of World War II is the history of a great many starts and stops and changes of plan. Actually, that's the history of the world as well as the world at war.
So a battleship that served in WWII surely has experience with not always leaving at the appointed time. Such is the case with USS Iowa, which was due to be towed from Richmond to the Port of Los Angeles -- its new home -- on Sunday, May 20.
An "approaching weather system" nixed that plan, so a new date was selected: Saturday, May 26.
There are a few interesting tidbits about the delay. One, of course, is that it is Memorial Day Saturday, so the ship's trip fits the moment. And two? The Golden Gate Bridge celebrates its 75th birthday this weekend, meaning there will be many people out on and around the bridge to see the USS Iowa go by. It is scheduled to pass under the famous span from 2:30 to 3 p.m. on May 26.
There's no official time and arrival date yet for its pull-in to the Port of the Los Angeles, but it is expected to be a "3 to 4 day" tow, says a Crowley Maritime representative. Even if you miss its arrival, you'll still be able to visit the ship, and soon; a museum is expected to open at the USS Iowa on Saturday, July 7.
A few other interesting things to note. The Iowa, which once ferried President Franklin D. Roosevelt, is 14 stories high and weighs in at over 45,000 tons. And it is getting a helping hand on its big trip south, if you're wondering; the tugboat Warrior, part of the Crowley Maritime fleet, will be doing the heavy lifting.
If you want to track the USS Iowa's journey south, you can; there's a follow-along map right here.
Follow NBCLA for the latest LA news, events and entertainment: iPhone/iPad App | Facebook; | Twitter; | Google+; | Instagram; | RSS; | Text Alerts | Email Alerts
Copyright FREEL - NBC Local Media