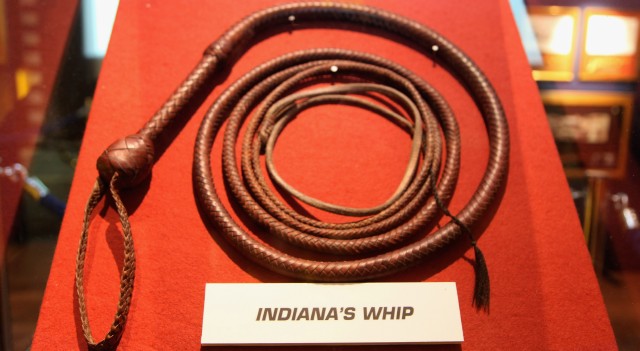 So we threw you the whip but there's no need to throw us the idol. Because our gift is that American Cinematheque is running "Raiders of the Lost Ark," "Indiana Jones and the Temple of Doom," and "Indiana Jones and the Last Crusade" all in a row. This is golden. This shines like the Ark of the Covenant as it sits in some deep snake den. It's good.
The fourth film, released last year, is not being shown, we should mention, and the whole archaeological adventure starts earlyish at 5PM on Saturday, July 25th at the Aero Theatre. It's hotter outside than that symbol-covered, heated-by-fire medallion at Marion's tavern. Well, nearly. A cool theater would work wonders. So would Harrison Ford in a fedora.
This is our thought: if you took a kid to see "Indiana Jones and the Kingdom of the Crystal Skull" in '08, but didn't get the chance to show them the first three flicks, this is your moment.
We were recently talking with a dewy young thing born in a more recent year than ourselves when she admitted she'd never seen "Raiders." Holy moly. No wonder there was no hint of a smile from our young friend when we quoted our favorite line: "Doctor Jones; again we see there is nothing you can possess which I cannot take away."
Belloq. What a bad, bad boy. But the fedora helps.
Copyright FREEL - NBC Local Media