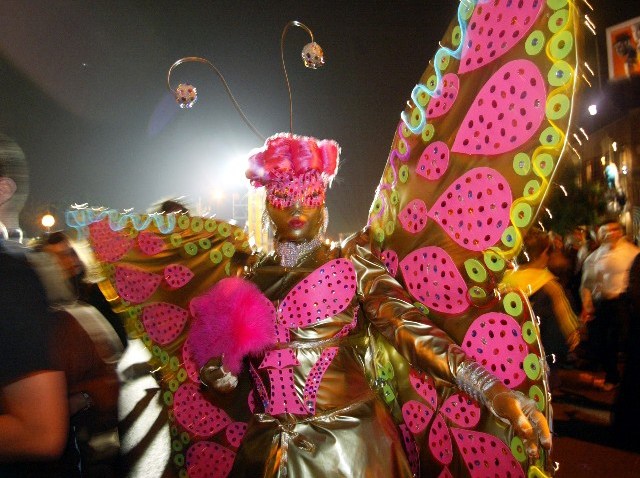 If you've lived in Los Angeles at any point over the last quarter century for longer than a week, you know about one of the largest events in the land, either from the television or print or online or attending or just because an event that regularly draws a half million people seems to weave into the shared knowledge of a city.
If you've just arrived in Los Angeles, welcome. Been to Pink's yet? Go. Now, about the West Hollywood Halloween Carnaval. We're not going to assume that you not living here before now means you don't know about one of the world's largest Halloween events, but here goes: It's one of the world's largest Halloween events. It happens in 2010 on Sunday, Oct. 31, there will be parade down Santa Monica Boulevard starting at La Cienega at 7 p.m., and then the carnaval aspects kick in, meaning music and performance and showing-off-of-mega-costumery and people, everywhere, looking to make merry.
And the "Time Warp." One of the cornerstones of the 2010 party is the celebrating of "The Rocky Horror Picture Show," which is having its 35th this year (by the by, the Carnaval is 23). Not only will there be constant "Rocky-Horror"-ing on one stage all evening long, but there will be a six-stage-wide "Time Warp" performance.
The Carnaval calls it a "record-breaking" event.
Besides the Boulevard-long, just-a-jump-to-the-left-ing, the celebration will contain the touchstones of years past. Like, you'll need to bring it in the costume department, since a lot of attendees work for weeks on their get-ups. There will be some eye-poppers in the crowd, for sure. There will be getting there and finding a spot for your car issues -- we did say a half million people go -- so plan ahead. And there will be making your way around, so here's a helpful map.
By the way, this is all free.
So, LA newcomer. Are you all set? Have the basics down of what you need to know? Excellent. And remember: take Fountain. Any day of the year.
Looking for more spooky events around town? Check out our Halloween 2010 Events Guide.

View Weho 2010 Halloween Carnival Map in a larger map
Copyright FREEL - NBC Local Media