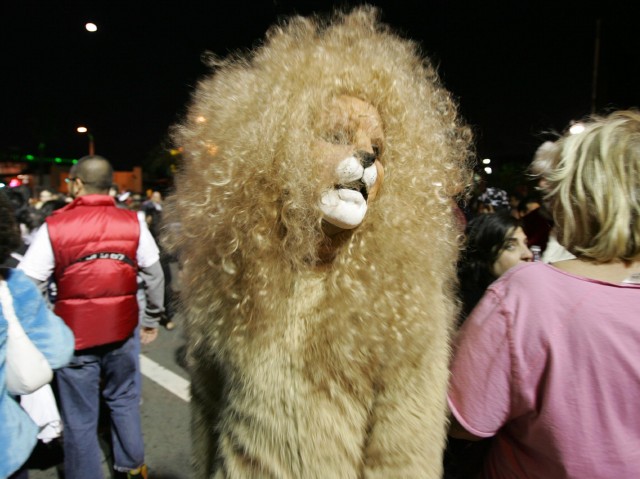 Somewhere in the neighborhood of a half million people will be partying at the West Hollywood Costume Carnaval on Halloween night.
So. This isn't that party where you wonder, "where is everybody?" Because everybody is here. Everybody and everybody they know. In fact, it is called The World's Largest Halloween Street Party by West Hollywood's visitor info site. Gotta put that in all caps. World's Largest.
And if you plan on attending, best skip drawing a sad monster scar over one eye with your girlfriend's eyeliner. The over-the-top costumes are legendary (snaking conga lines, a dozen people reenacting a Renaissance painting, the nearly nude, fully painted attendee sporting glittery wings the size of a Buick).
Ricki Lake is the Queen of the Carnaval in 2009. Illusionist Christopher Wonder, and a whole gaggle of mystifying acts, will be over at the Illusion Stage. There's a Vaudeville Stage, complete with burlesque and aerial acts, and music.
Should we also add that the 2009 Carnaval is on a Saturday night? Which means more people may be inspired to attend. No work/school that day, so plenty of time to prep the costume, and no work/school the day after, so plenty of time to rest.
So we say this now: go, but think about the going part. Where will you park? Should you share a ride with a friend? Yes. If you haven't been, going is a gas, and remains one of the important rites of being a Southern Californian (finding your way from Burbank to Long Beach via surface streets is another).
Packing a camera is advised. Comfortable shoes, essential. Forget that they clash with your zombie get-up or that shoulder-pad-y, Joan-Crawford-in-"Mildred-Pierce" gown. Wear tennies. And figure out parking beforehand, not as you're grumpily circling some block for the sixth time. Or find a WeHo-based chum and crash at their pad for the night. A bit of cash is good, too, just in case you need to call a cab.
Cha-cha-cha-ing down Santa Monica Boulevard with a mass of costumed humanity is exhilarating, but forethought (and an outfit that isn't cumbersome or too heavy after five minutes) is everything.
Saturday, October 31, 6-11PM, Santa Monica Boulevard, West Hollywood
Copyright FREEL - NBC Local Media