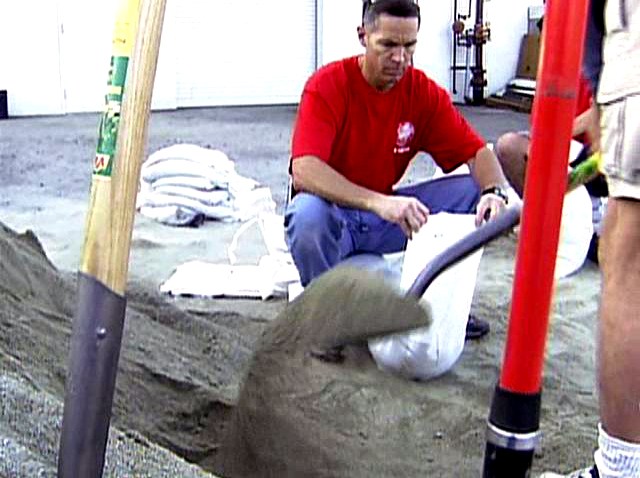 Sandbagging efforts continue on fire-damaged hillsides in Yorba Linda and other vulnerable areas, as a storm with the potential for heavy rains moves into the area.

"If it does rain hard with this storm, it's going to come quick," NWS meteorologist Ivory Small said. "It looks like the kind of event that could include some tropical moisture, with separate cells moving in.

"It won't be a steady rain in other words.. There's more of a potential for heavy downpours dumping in particular areas."

Recently-burned areas are of prime concern to firefighters. The Freeway Complex Fire near Corona and Yorba Linda scorched more than 47 square miles, and destroyed or damaged more than 310 homes, according to the Orange County Fire Authority.

The blackened, denuded slopes and gullies of Chino Hills State Park are of particular concern to Yorba Linda residents who live below, according to city officials.

"Due to the Freeway Complex Fire on November 15-16, nearly all the vegetation on the hillsides along the northern interface between the City and the Chino Hills State Park have been burned away," Yorba Linda officials said in a public statement.

"As a result, much of the soil and debris could wash down into surrounding neighborhoods when it rains. These mudflows may result in additional property damage."

Residents and volunteers in vulnerable Yorba Linda neighborhoods started sandbagging several days ago. Lee Hutchison lives on Brentwood Street: "The fire came all the way down to our property line. Thank God for my neighbor, he's a former fireman and kept water on the houses on our street. But we don't know what's going to happen now."

In Southern California, heavy rains on recently burned watersheds can unleash tons of ash, unstable soil, rocks, boulders, logs and other debris, according to the U.S Army Corps of Engineers and the U.S. Forest Service.

Debris flows and so-called mudslides -- post-fire or unrelated to the blazes -- can ooze along at 5 mph or reach freeway speeds, depending on many variables, the agencies said. In any case, they can be destructive and potentially deadly.

Small emphasized that residents who live distant from burned areas should also be concerned about the potential for sudden, heavy rains this week.

"Even in the non-burned areas, people should look at their properties and their drainages," Small said. "Anticipate what a heavy dumping could do."
Neighbors are helping neighbors in Yorba Linda. Alfred Galagar says he stocked up on sandbags over the weekend and returned to the Disaster Relief Center at 22744 Eastpark Drive to help others who haven't done so. General Contractor Kevin Andrews says his clients who live below burned out areas are worried. He and employees of his Cobb Construction Company have given their time and energy to take sandbags to those neighborhoods.
Yorba Linda Parks & Recreation Director Sue Leto says the fires caught homeowners off-guard. "We hope to ease the anxiety, offering these sandbags as the first step towards getting them started." Bags are limited to 25 per household and the city says it needs residents to abide by that so there's enough to go around.