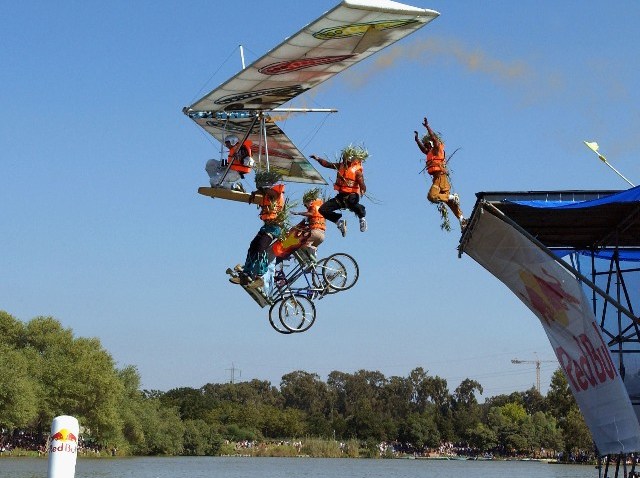 Sometimes there's poetry in an economy of words.
So we'll try and describe the Red Bull Flugtag without muddying up what is a simple and straightforward concept: Inventive people build devices and attempt to take wing off a "30-foot high flight deck." There is water below, if all of their taking-to-the-air dreams and plans and hopes do not come to immediate fruition.
And the contraptions they're flying? The steampunkian cars from "The Great Race," starring Tony Curtis and Jack Lemmon, do come racing to mind. The flugtagian flyers are quite extraordinary, in look and dash.
"Flugtag," explains Red Bull, means "flying day" in German, and that flying day is happening Long Beach on Saturday, Aug. 21. (We should note a few flugtags happen around the country, but this is the only Red Bull California event this year.) The site is Rainbow Harbor, the initial take-off is at 1 p.m., and everything wraps around 3:30 p.m.
Bonus: This is free to watch.
Now, participants: Are you all wearing goggles, a la Tony Curtis in "The Great Race"? Maybe a fancy leather duster? The spirit of invention demands some sartorial prowess. We're betting you'll bring it.
Copyright FREEL - NBC Local Media