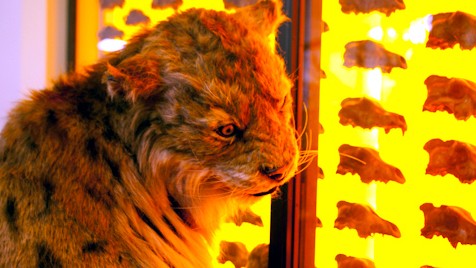 The mega-sized saber-toothed cat puppet that's been making appearances at the Natural History Museum, as well as the occasional cameo at the Page Museum at the La Brea Tar Pits, is quite convincing.
As it should be; both specialists in all things smilodon fatalis -- that's quite the official name -- and creative types from the Jim Henson Creature Shop worked on the life-sized beast and her smaller, saber-toothed kitten. It's so realistic, in fact, that it comes with a warning that littler kids might find it all a bit scary.
But older kids? And people even older than older kids? They love that sabertoothed-cat something fierce. So much so that its appearances have been growing over the last few years. And now, the even better news: It will be a regular fixture at the Page Museum on Wilshire Boulevard starting on Wednesday, Sept. 12.
The big kitty'll be meowing, or doing whatever saber-toothed cats did in prehistoric times -- really loud meowing? -- on Wednesdays and Saturdays at the Page Museum's East La Brea Theater. There will be three midday-ish performances on each of those days.
There are tons of fun facts about smilodon fatalis, which we want to call Smiley, but we shan't. (Although the smaller puppet is named Nibbles.) One factoid we like? It's so complex and large that two puppeteers must operate it. Jim Henson Creature Shop, ILU.
Page Museum admission gets you into the shows. Thanks, NHM and Henson and puppeteer Robin Walsh, who created Nibbles. This is a really excellent coming together of art and science, and gives our beloved tar pits some extra feline fabulousness.
Follow NBCLA for the latest LA news, events and entertainment: iPhone/iPad App | Facebook; | Twitter; | Google+; | Instagram; | RSS; | Text Alerts | Email Alerts
Copyright FREEL - NBC Local Media