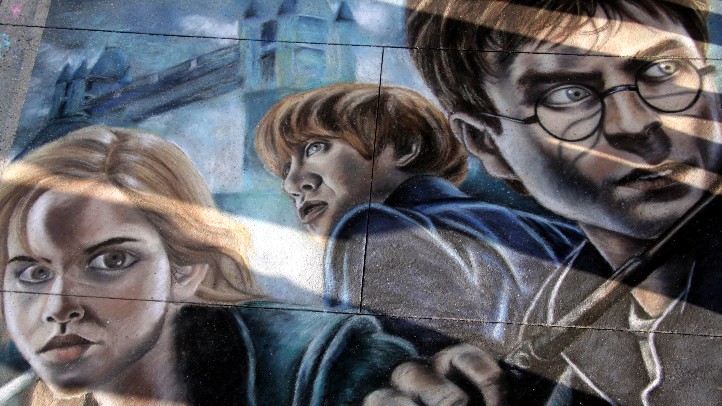 Mother's Day might have a lock on flowers and brunches and gardens and candy -- and, rightly so, because our own mom rocks and deserves it all plus much more -- but we worry, just a bit, for Father's Day.
The traditions tied to the June holiday are a bit loosey-goosier overall, yes? Sure, many families have their own observances, but dads need something bigger and more public to salute their dad-dom, wethinks.
Which is why we're always happy to see the Pasadena Chalk Festival return, again and again, on a certain warm holiday weekend. It is, in our mind, the perfect local Father's Day outing. It's free, there's a lot to look at, the family is out in the fresh air, and you can spend as much time as you want or as little.
And it's on this year on Saturday, June 16 and Sunday, June 17 at Paseo Colorado.
What's to know? Hundreds of artists turn out and their topics and subject matter are true gamut-runners. You might see movie tributes, like the one pictured above, or 3D creations, or pictures that you're a little bit shruggy over. (Props to every participant, but art is subjective, right? That's the beauty.)
Oh, and the quirkiest bit? You're looking down, at the ground, to admire the artworks. There isn't a museum in the world that is just about paintings on the ground. (Or is there? Please enlighten us if so because we want to go.)
The Chalk Festival lends support to local Crown City arts programs, so that's nice. And also nice, or at least mentionable? This happening nabbed a Guinness title a few years back: Largest Display of Chalk Art.
Dads, kids, families, chalkiest and art lovers: Don't you love this tradition? Schedule it before or after your holiday grill-out or pick-up baseball game.
Follow NBCLA for the latest LA news, events and entertainment: iPhone/iPad App | Facebook; | Twitter; | Google+; | Instagram; | RSS; | Text Alerts | Email Alerts
Copyright FREEL - NBC Local Media