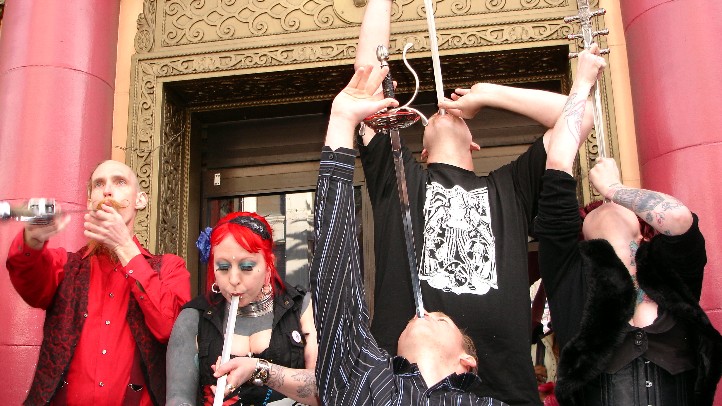 If you've lived 'round these parts long enough, you know that Oscar Weekend can bring some strange sights to Hollywood.
1? More limos than you've ever seen in your life. 2? More camera crews than you've ever seen in your life. 3? Lookie-loos, some outlandishly dressed, looking to be part of the starry circus that is the Academy Awards.
So when we hear that there's going to be a sword-swallowing competition a day before the awards, and it is just a hop away from the Kodak Theatre, we're not at all surprised. There's spectacle in the air, in short.
World Sword Swallowing Day -- did you know there was such a thing? Perhaps, if you swallow swords -- is on Saturday, Feb. 25. A number of practitioners of the eek-filled vaudevillian art will gather at Ripley's Believe It Or Not! Odditorium to do their shiny, sharp, open-wide thing.
It's happening at 2 p.m.
Here's the extra nice bit about the day: Several swallowers will be visiting various worldwide Ripley's to wow crowds while money will be raised for esophageal cancer research.
So, Oscars. You're the next day. The spectacle bar will have been raised.
Follow NBCLA for the latest LA news, events and entertainment: Twitter: @NBCLA // Facebook: NBCLA
Copyright FREEL - NBC Local Media