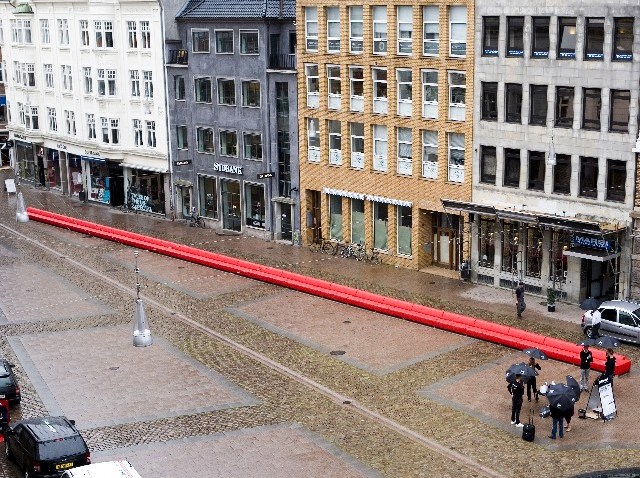 And you thought your couch ate up most of your living room with its general hulky hulkiness.
Try fitting what's called The World's Longest Sofa in your apartment, or even on your block. It's 213 feet in length, and red as red gets, so it makes a "statement," to use snazzy interior decorator parlance.
And it is headed our way, with whimsy and woo-woo-ing in its stuffing-filled heart. On Feb. 14, hordes of speed daters will sit their backsides right down on it, with the hopes of finding another heart similar to their own.
Aside: If you meet your future spouse on The World's Longest Sofa, you officially get the not-real badge for The World's Most Awesome Couple in our book.
If you're a speed dater, you can participate; HurryDate and BoConcept are staging this, and it is $26 for HurryDate members to join, $35 for non-HurryDaters. Heck, we'd pay $35 to sit on The World's Longest Sofa, but really, you should be looking for romance. Come dressed nicely, too, because we're betting a lot of cameras will be whirring during the event.
Plus, if you meet your future? Don't be all in grubby sweats. Because. There will be time for that later. So much time. Fact? Fact.
It's all happening in Santa Monica on Valentine's Day, on the Third Street Promenade, which is probably one of the few places that can handle that much sofa. And there are eats and bevs involved for the famished looking-for-lovers.
Ages are listed as being 30-43, and there are other details, so read all, for sure. Also? Signing up in advance is very much key. Also key: BoConcept is the maker of the stretched-out sofa, we should add, and you really can buy sofas from the company. The sofa you do go with likely won't exceed two tons, like this one, but you can definitely go as red as red gets.
Copyright FREEL - NBC Local Media