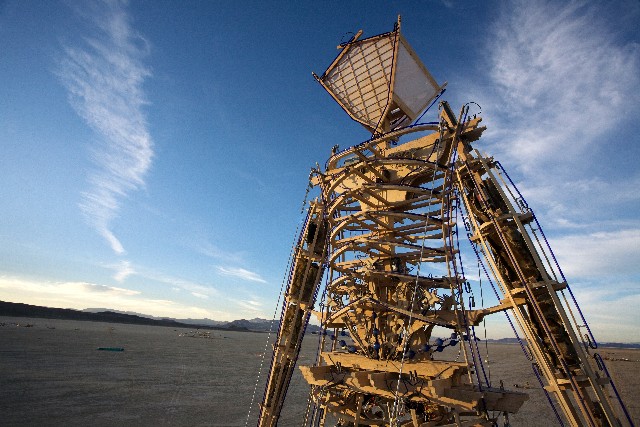 BLACK ROCK CITIZENS UNITE: Burning Man, that legendary art-and-dance-and-expression extravaganza that regularly attracts thousands of revelers each Labor Day Weekend (and the week leading up), is once again set to roll for 2010. The dates are Monday, Aug. 30 through Monday, Sept. 6. The place is once again Black Rock City, Nevada, a just-for-the-week, oh-so-brief burg set in the bleak and beautiful Black Rock Desert.
BUT IS ROLL THE RIGHT WORD, REALLY? "Dance" is maybe more accurate. "Cartwheel" is nice, too. Because if you know this festival, you know it is given to iconoclastery and expression in all forms. It's become a bit of a flash point over the years for some; for others, they've cleared the week before Labor Day for the rest of their lives in order to attend. For everyone else, there are pictures and tales to enjoy. Us? We like the spirit. And we really love this giant Gonzo golf cart. If we could have our own giant Gonzo to tool around the desert in, we'd definitely sign up.
GETTING GOING FOR 2010: There's a lot to know before loading up your LED-laden outfits and empty canvases and dreams (you've got to arrive with those at Burning Man). The First Timer's Guide is helpful, if that's you. The Survival Guide is handy. And this general overview is full of history and details. Like, Burning Man is soon to turn 25. We cannot wait to see those light-up, whirly-whirl party hats when it does.
Copyright FREEL - NBC Local Media