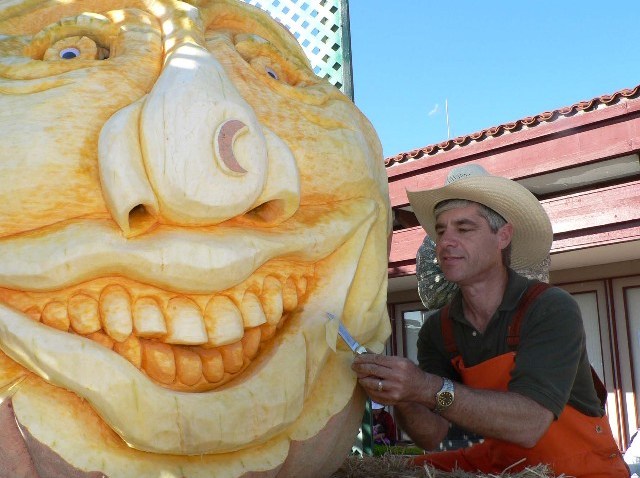 PUMPKINRY IN PARADISE: Oh, Half Moon Bay. Just your name. We know you are beautiful. We know you are coastal and have a lot of wildness to recommend your environs. But your mere moniker makes us want to don a twee little capelet and pretend we're some heroine in a romantic novella. May we? Thank you. And we may just go the capelet-novella route the weekend of Saturday, Oct. 16 and Sunday, Oct. 17, when your famous Art & Pumpkin Festival turns 40.
HAPPY 40TH: Half Moon Bay's autumn party is well-known for its pumpkin sculptures, and its pumpkin girth; if some cable show doesn't visit the fest at least once every fall, well, call the pumpkin patrol. It's famous. This is one of those places where they roll the really sizable squash onto a scale and then everyone stands back to gasp and applaud. In a CG'd-out world, we love this. We love the simple, on-the-spot surprise that something squashy can deliver. There will be other to-dos at the fest, too, so check 'em out before making the drive to the southwest-ish end of the San Francisco peninsula.
DID WE MENTION? One more thing, Half Moon bay. You're the World Pumpkin Capital. It says so on your site. We'd brag, too.
Copyright FREEL - NBC Local Media