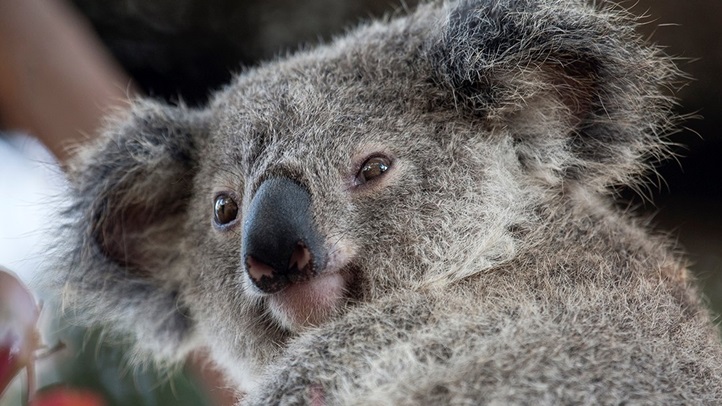 A WORD OF ADVICE: If you're ever considering getting into a cute contest with anything in this world just don't go up against a koala. Because regardless of how cute any of us are, or any other living creature is, one simply can't compete with the furry beast that is snub of nose and large of ear and snoozy of disposition. We'd never tell anyone "quit before you try" over anything, but we have to take a stand on this one. Exhibit A? Kirra, pictured above, the newest joey at the San Diego Zoo. She got her name -- it is Aboriginal for "leaf" -- when some 4,000 koala buffs voted online. Gaze into Kirra's eyes, enamored, furry-obsessed humans. Do you want to be in a cute-off with her or any other koala? None of us are raising our hands on this one, and wisely so.
BUT WE WILL RAISE OUR HANDS... to see her in person. Or, um, in koala? A big date is ahead for Kirra and all of the zoo's famous eucalyptus-craving marsupials, when the Conrad Presbys Australian Outback debuts at the animal park on Friday, May 24. The koalas will now be neighbors with kookaburras and cockatoos and wombats and other creatures that hail from Down Under. One of the centerpieces of the area is the Queenslander House, which will provide eye-level decks from which to observe the koalas napping in the trees. (Spoiler alert: Koalas do love their naps.) It's an innovative idea, and one you don't see at too many zoos. How many times have you looked up into trees, rather than straight on, to try and spy a koala?
Just over a half dozen marsupials will call the Australian Outback area home, and about two dozen birds. Can't wait for Memorial Day Weekend? You can watch Koala Cam right now. Does anyone see little Kirra?
Copyright FREEL - NBC Local Media