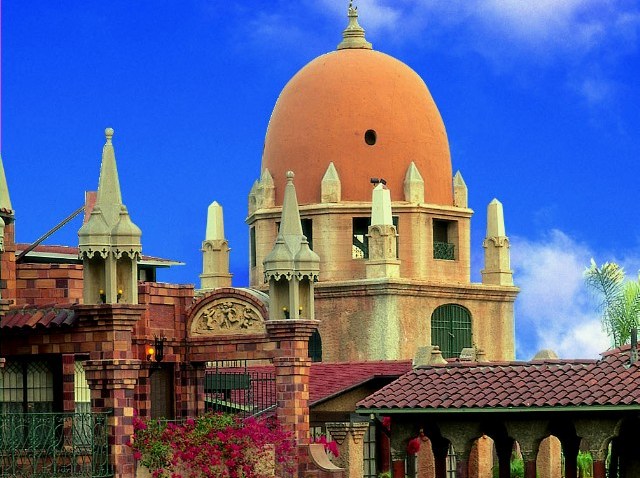 Your job: Decide to get out of town and fast. Our job: Help you find where you're headed. This week, NBCLA's Worth the Drive takes us to...
The Mission Inn: We're bowing low before the turreted, dome-laden, archway-pretty queen of Riverside. And we're going to take a moment and think of its grand staircase and wrought-iron details and all the nooks and crannies. So many nooks and crannies. Okay. Moment over. Pleasant.
If you've been there you know... About that pretty outdoor center courtyard that was practically built for brunching. The long, darkly lit lobby perfect for after-dinner cordials. And the holiday decorations.
Re: those holiday decorations... We're not talking a string of tinsel here and there. The sparkliest season is outsized at the Mission Inn. Picture millions of twinkly lights, life-size Christmas-y figures, strolling, be-muffed and be-top-hatted Victorian carolers. And we're not exaggerating when we say "millions"; there are 3.5 million lights on/in the Inn, to be exact-ish.
You're telling me this, and yet it isn't even Halloween. True. But the Festival of Lights opens at the historic hotel in just over a month's time -- Friday, November 27th, to be exact -- and if you want to stay overnight, especially during the weekends, you'll want to book soon.
Package prices: Holiday Magic (one night) is $189; 'Tis the Season is $399 and includes a Friday-Saturday night deal, plus other spa-food-activity-type goodies.
Nooks/crannies: How many can you count? We estimate the historic, castle-like Inn has good 54 or so. Now, we just need to determine if we like nooks or crannies better. Oh, we can't decide.
Copyright FREEL - NBC Local Media